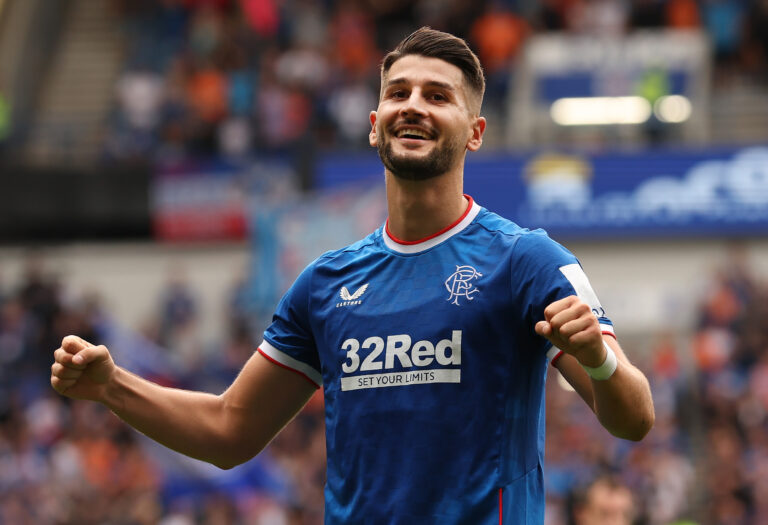 Not since the days of Marco Negri have we had a striker to make this kind of impact at Ibrox. Antonio "Goalak" as he is now called has been absolutely ridiculous, with 7 goals in 9 matches, and while we at Ibrox Noise extolled the virtues of signing him, even we couldn't have seen a-near one in one return from the Croat.
He's done it against Ross County as well as Union Berlin, St Johnstone on top of PSV (twice).
This guy is delivering at the highest level, and fans are losing their minds over how impressive he is.
Goalak has been so good that Alfredo Morelos is some distance off being first-choice now. It's not just his attitude and fitness issues at present, or even the contract – he just can't compete with this, not even at his very, very best.
When Morelos joined Rangers he was initially absolutely terrible, those early appearances v Niederkorn saw him as a moody grump who looked sluggish, disinterested and flat.
He did start to score though, and over time he became coveted and his performances in the UEL were outstanding.
But the 'I want to play in the PL' talk started 6 months after he joined and it's only in the last 6 months to a year, almost 5 years after joining, where he's actually, for the first time, said he's happy here and wants to stay.
Not showing the actions to match the words, mate.
Goalak has shown him up, it's that simple. Everything about our new hitman is a striker who wants to be here more than anything. His tears at getting the club he loves into the CL were evident at full time in Holland. Yes, he is already an adopted Bear, it really didn't take long.
Getting into the UCL with Malmo meant little to him because they were a loan club, but we are his club and it meant everything.
And the goal record of 7 in 9 at all levels, with everything Morelos can do but even better, is spellbinding.
We don't know yet if he has the physicality to bully defenders like Morelos (used to), but his hold up play v PSV was absolutely superb and showed he's no wimp.
No, Goalak is 100% first-choice now, doing everything and having everything in his game. Morelos' indispensability is completely gone and he will have to fight to get a place.
Because it's no longer 'his' place back any more, he has to fight to secure Goalak's slot.
It's all about the Croatian now, the Colombian will have to sit on the bench for now.