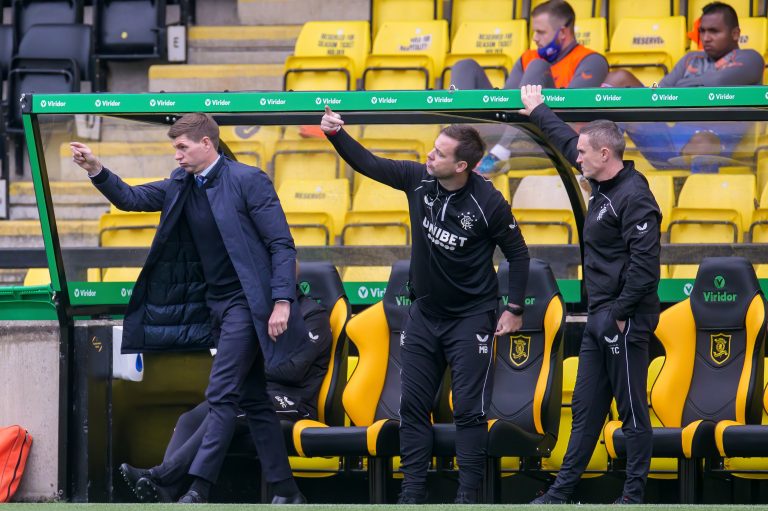 We've spoken about this a few times in the past, and we're seeing this phrase being used both against and for Michael Beale recently, so we're going to properly clear this one up.
Was Michael Beale the brains behind 55? Yes and no, is the answer.
If he was the brains behind Gerrard, why did he not win the league at the first time of asking, why did it take three years to secure 55?
These are, of course, slightly rhetorical questions but we will explain and define what Beale's role at Rangers first time round was.
He was the coach. Simple as that. He coached the drills, took the training, barked at the players, and, and this is the telling part, he designed the systems.
That's right, Michael Beale set up various formations, styles, placements, all these options, but it was Steven Gerrard who made the DECISIONS on them.
Beale would craft all the choices of who goes where, formation styles, setup you name it – and while he might offer his two pence regarding advice, the final call always went with Steven Gerrard.
A good example might be in Formula 1 – you might have a genius designing the car, but it's another genius who drives it. Steven Gerrard was the Max Verstappen to Michael Beale's Adrian Newey.
That probably went over a lot of fans' heads who don't follow F1, but the point is Beale might have been the architect, but it was Gerrard who put it together, picked the system, made it actually work on the pitch.
So it's not wrong to say Beale was the 'brains' behind 55, but it does a disservice to what Steven Gerrard's role was.
Now?
Beale's in Gerrard's role, and nowhere near as strong-minded or willed – he lacks the charisma and aura that Gerrard had, to make players work and fight for him.
As a duo at Rangers, they (eventually) worked incredibly well. But separately, they are really struggling – Gerrard doesn't have the tactical know-how, the nous, for all the presence and authority, or aura that he has. Beale is finding it hard to make the step up into solo management into the pressure.
Certainly at a club the size of Rangers.
But was he the brains of 55. As we said before, yes and no.