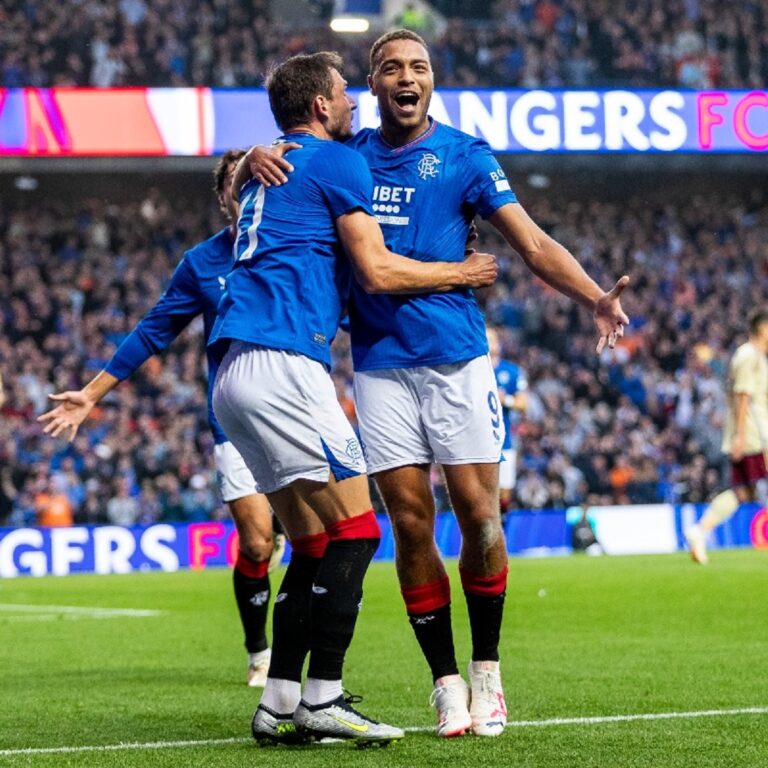 Rangers laboured to a pretty subdued 2-1 win over the exact Servette Ibrox Noise predicted, as the Swiss side travelled back to mainland Europe much the happier side.
Ibrox Noise brings you our ratings for a rather underwhelming night:
Butland:
Didn't have any real saves to make here, and we're not sure what the confrontation was all about. Well-beaten from the spot. 5
Tavernier:
His every performance is the same – nick a penalty, leave the backdoor wide open and get exposed repeatedly. His Rangers race is run and we're completely fed up with him. 3
Goldson:
We're usually very harsh on him, but tonight he was a bit better. Some good reading and interceptions in the first half, but suffered with the malaise 20 minutes onwards throughout the whole team. 5
Souttar:
Solid enough, and was seen at one point remonstrating with Goldson to 'use his head' in the second half. He's acquitting himself well as a Rangers player. 6
Barisic:
Another one with a bit of a better showing, assisted the goal and honestly very few opposition attacks came down his side at all. 6
Raskin:
Bright start and hungry but faded quickly, Raskin seems a bit off the pace at the moment. 5
Jack:
His best performance since that Hibs outing, this is occasionally what he can do on a one-off occasion. Covered the defence many times and kept the midfield in one piece. This was the old Jacko. He can hold his head high. 8
Cantwell:
Finally over his preseason and Killie slump, this was last season's Cantwell. A real danger every time he was on the ball, and he was absolutely targeted in a campaign from Servette. Will be black and blue from this one. 8
Lammers:
Oh boy – aside the world class save from his one good shot, this was very much why we were wary of signing him. He's scored 8 competitive goals in 5 years, and his sitter pretty illustrated how absolutely shocking in front of goal he is when it counts. 4
Danilo:
He was unmitigated mince – gave the ball away constantly, didn't know what he was supposed to be doing, and didn't fit in at all. 3
Dessers:
Look, he was in the right place at the right time, so fair play to him for falling against the ball and getting a goal, but aside that he looks absolutely ******* awful. £6M for this guy? 3
Subs:
Cifuentes:
In 15 minutes did more than the rest of the side bar Jack and Cantwell. Looks a unit of a boy, lovely touch, and opponents were literally bouncing off him. We already adore him. 8
Sima:
Take off one pile of rubbish in Danilo and replace him with another. Sima is a god-awful signing so far. 2
Wright/Hagi weren't on long enough to make an impact.
Manager:
Michael Beale went with close to the strongest team he could, aside the obvious Tav and Goldson malarky, and for 15 minutes it looked like he'd actually nailed the gig. Ibrox Noise had a big dollop of Humble Pie in our HQ oven ready to munch on. But then it just died. His team stopped playing after about 20 minutes, and it was Killie all over again – lots of the ball, no major threat. The few times we did get through the goalie was in the mood. But that's his job. This was a flat ending to what could have been finished on the night had the players kept up the intensity and taken the chances. Waited far too long to make any changes and took off the wrong player in Jack when he did, leaving Lammers on. This wasn't abysmal, but it fell very short of what it had the potential to be. Beale signed these forwards to be clinical, but it looks exactly the same as last season at the moment. This is what he wants judged on, well, we're judging Mick. 5