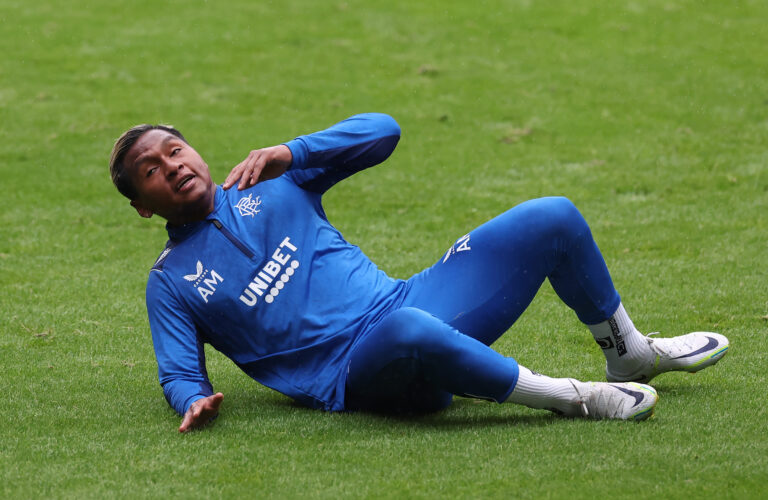 Further intrigue has been added to Alfredo Morelos' imminent departure from Rangers after tabloids made the bizarre counter claim that he has specifically spoken to the club internally to deny he's signed a precontract with Sevilla or anyone else, or has even spoken to another club.
This would the first time in history a Rangers player has been reported strongly as signing a deal with another club, only for a tabloid to make a completely unsubstantiated claim that he's spoken internally with the club to reject the reports.
These original reports began in Spain and Ibrox Noise, ourselves, information we got from our sources substantiated by Sevilla outlets who reported the story, before Scottish tabloids got wind of it and claimed the same thing.
Only for one of those tabloids, one of the least credible, to somehow conjure up the opposite story thereafter that Morelos has spoken internally to the club and denied a precontract.
Michael Beale suggested otherwise, in fairness – the strongest rebuttal the manager could offer was to say he wasn't sure if the story was true, but if it was he'd deal with it.
In short, the boss as good as confirming it's true – so if Rangers publicly practically confirm it, or, at most generously, miserably fail to deny it, then it most likely has legs indeed.
The only time we know a story is absolutely untrue is when it is patently denied – with Todd Cantwell Michael Beale at no point rejected the speculation, but on Tom Davies he was very quick to deny any interest at all.
So this story has wings, let's face it, and Scottish tabloids somehow 'knowing' Morelos' internal discussions with Ross Wilson or anyone else at Rangers seems far-fetched to us. Especially given the club doesn't work on any level with one or two well-known Scottish outlets.
But of course, twists and turns are possible at Rangers, and maybe our watertight info, the corroborating reports from Spain and Morelos' cryptic departure tweets not to mention Beale's practical confirmation of the story are all just shocking red herrings and Morelos is ready to sign a four-year deal at Ibrox and pledge the rest of his career to us.
Yeah, probably not.