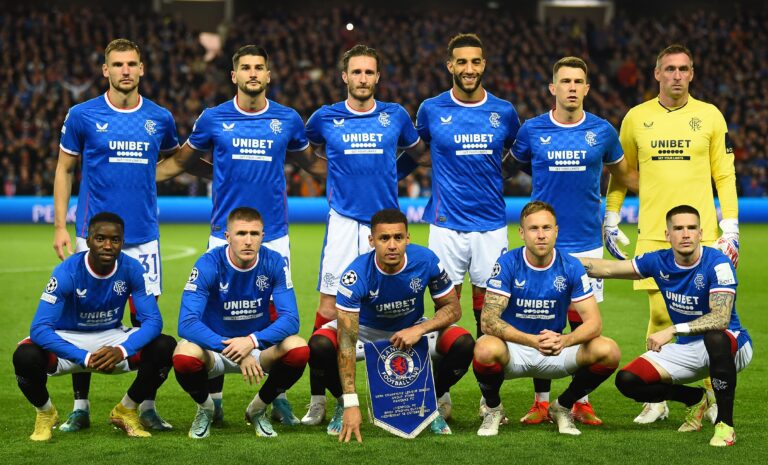 For no real reason aside the fact we can, Ibrox Noise will give a player-by-player rating out of 10 for the season so far, and try to assess, personnel-wise, who gets passmarks, more, or who can leave by the backdoor.
Without further ado, here are your Ibrox Noise ratings for the season so far for all (significant) players.
Jon McLaughlin:
Easily the worst goalkeeper SPL Rangers have ever had, and we remember Boni Ginzburg being beaten by Mickey Weir for God's sake, McLaughlin was a journeyman League One goalie thrust into the UCL and Parkhead when he was absolutely miserably out of his depth. It was sad to watch it. It's not his fault, but he is so far off good enough, and frankly is the level of the Scottish Championship. 0
Allan McGregor:
Shone for the penalties v Napoli, and had a very good night in Liverpool, but aside that his return has been rank poor. Whatever he had left he gave for 55, was average last season, and left the tiny ember remaining for those two UCL matches. He's completely done. 5
James Tavernier:
Started OKAY but deteriorated, and his captaincy v Liverpool was the worst armband wearing we've ever seen. He's not fit to be captain, isn't respected, and his performances this season have started reflecting bad form and an injury. His mistake yesterday summed his current malaise up. 3
Connor Goldson:
Absolutely disgustingly awful start to the season – we'd give it a negative rating if it wasn't for his uplift when Ben Davies and McGregor came into things. For two and a half matches (St Mirren and both Liverpool matches) he actually caught some form again but then the injury finished him. He's probably done as a Rangers player now, despite the new deal. 3
Ben Davies:
Yes, not played a LOT but enough for us to rate him – he's impressed us, after a mediocre start. Tackles, and clean on the ball, he's composed. Whether he's the future we don't know but he's been ok overall. 5
James Sands:
A divisive one this, Sands has shown game-saving tackles and goal-costing gaffes all and one, and was MOTM v Union Saint, but a lot of fans think he's mediocre and useless. We think he's better than that, and has been a bit hard-done by. 5
Leon King:
Shone in Holland when everyone looked dreadful, but has actually deteriorated since then – had no chance as he tried to save the day v Liverpool, and thereafter looks out of his depth. Too young and hasn't had any chance to develop. 4
John Souttar:
Yes, we will score him, he's made a few appearances, enough to give something – and he was dire. Absolutely horrendous, before injury finished him totally. Could be the worst defensive signing we've made since Prodan. 0
Borna Barisic:
He's had a ghastly season – Backwards Barisic is now roundly derided when he goes back the way, and it's usually accompanied by his doing an 'over the top' gesture as if he's blaming Ryan Kent for everything. The two clearly don't work anymore. 2
Ridvan Yilmaz:
Took him time to settle but he's looking better now, and his recent cameos and starts have been solid. Hard to rate one with barely more appearances than John Souttar, but his most recent stuff was far better than BB. 5
John Lundstram:
Getting some criticism from some quarters, Lunny has confirmed he's been carrying an injury the whole season, and if you add his non-working partnership with Steven Davis, it's easy to see why the big man isn't at his best. But he is still trying and scored a fine goal v Livi. 6
Steven Davis:
Absolutely and completely finished, you know his biggest fans are getting desperate when they praise him as outstanding v Dundee. The lad is done and cannot function in Rangers' midfield any more. 3
Ryan Jack:
Not at his old best but was doing better than some till injury wiped him out, Jack was at least more of a foil for Lunny than Davo, but equally he was so far off his former form it is sad to see. 5
Glen Kamara:
Few want to play for Rangers less than Kamara does. 0
Scott Arfield:
Has the 'honour' of being our only goal in the UCL, and it was an amazing one, but aside that he's continued to work hard, make runs, link where he can, and try to lead. You can criticise many, but Scotty isn't one of them. 7
Ryan Kent:
Gone is the workrate and the runs, and his goals and assists for the season tell their own story. He's just miles off it. 0
Scott Wright:
We're not big fans of his ability, but few can argue with the workrate. He does have pace, and can find a good run and touch to beat his man, but he just keeps plugging away. He's actually been alright. 5
Fashion Sakala:
A horrible player, Sakala has zero football intelligence, and after he had a decent afternoon v St Mirren, some fans suddenly thought he was Messi. Far from it. He's guff. 2
Rabbi Matondo:
Has had fleeting glimpses of some quality, but overall he's produced very little. Hasn't settled yet, there's still hope, but we're beginning to see why Cercle didn't keep him after loaning him from Schalke. 3
Tom Lawrence:
He was 'pretty good' up till his injury, no more. Got some goals and assists, so his stats were up there, but he was far from mind blowing. Still, better than many. 6
Malik Tillman:
The pinnacle example of why not to overreact to a bright start by demanding the club signs him for £4.5M, Tillman went downhill fast and disappeared. Recently returned but looks a shadow of the genius fans thought they saw at the start. 4
Alfredo Morelos:
Absolutely pitiful. One assist (couple of goals) but generally carrying a few extra pounds and looks a hundred miles off it. His value must be barely a couple of millions these days. 1
Antonio Colak:
A success story, at last – give this guy chances he will score, but even he has got caught up with the blight in recent matches and his form went dry. But no taking away the incredible 13 in 16 he had. It's 13 in 19 now as the team crumpled. 9
And that's the significant ones. Clear to see it's miles off good enough.