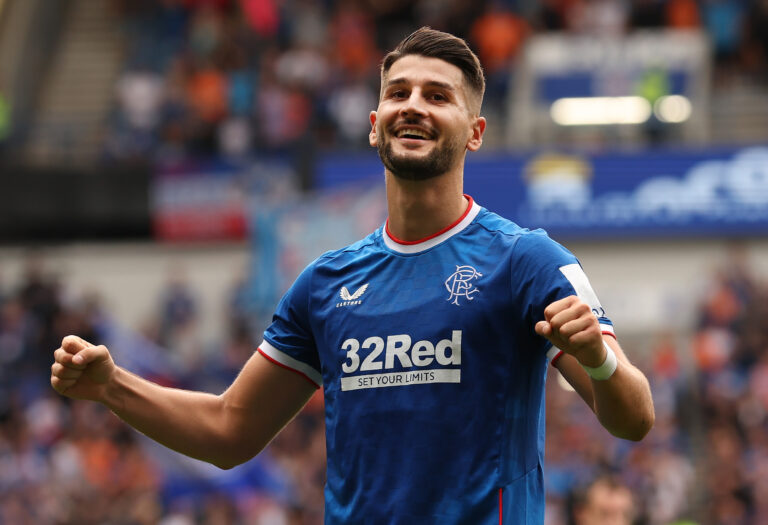 This is a controversial one, and despite our article yesterday trying to gee up Cyriel Dessers, nevertheless Antonio Colak is one who should never have left, and who really isn't favoured out in Italy.
Should Rangers actually try to re-sign him?
He's started just 3 in Italy, of 12 appearances total, and clearly Serie B doesn't suit him and the team he's in doesn't either. He does have 3 goals, but he's with a setup that doesn't fit his talents, where Rangers under Giovanni van Bronckhorst absolutely did.
Parma signed Colak for £2.5M and have pretty much left him on the bench all season – he's gone on record admitting he didn't want to leave and thought Rangers would be his forever team.
And his spell at Ibrox was absolutely among the strongest of his career. In Croatia, Sweden and Scotland his goals hauls were superb. 51 in 90 in Croatia, 22 in 41 in Sweden, and 18 in 39 at Ibrox.
The guy is the most natural goalscorer seen at Ibrox pretty much for years, but The Mick couldn't wait to get rid of him.
Would Philippe Clement be interested in bringing him back? Would Rangers?
Many fans would favour him over Cyriel Dessers, but Rangers cannot justify the Croat coming back if Dessers remains. Much would depend on his moving on.
And of course, Clement rates Danilo highly, and it appears that the Brazilian will be number one striker going forward, which is no bad thing.
But Colak was just happy here, and when he had real chances, he took them – let's not forget at one point he had 7 goals in 7 then 13 in 14 appearances. He was the most on-form hitman in the UK aside Erling Haaland.
For some reason some fans just completely went off him as a result of Rangers' diabolical Champions League campaign, and he never recovered their favour. Fickle fans who don't have a clue, quite honestly. Same ones wanted Jon McLaughlin as first choice goalie…
Would this be a possible avenue?
Probably not, but hey crazier things have happened.