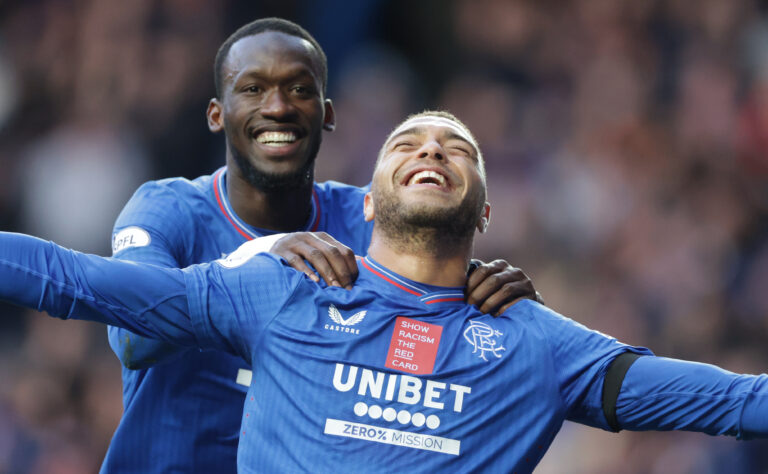 6 goals and 3 assists, so 9 goals/assists in 22 would be regarded as a solid number if Rangers were to sign such a player in January.
Maybe not breathtaking, but a solid addition the fans would support and believe our manager could get the best from.
But sadly, Rangers fans, deep into November, just have not taken to Cyriel Dessers despite his being the fourth top goal provider this season.
Only Danilo (10 in 17), Sima (10 in 22), Tav (14 in 22) are above him, meaning for all the hate the boy gets, he's not been half as awful as supporters want to believe.
The problem is his awkward and ungainly poise, where his elegance is akin to Bambi on Ice, not unlike the equally-disliked Sam Lammers, whose numbers really are abysmal.
But Dessers offers enough numbers to justify the faith Philippe Clement has in him, and while fans are never going to see an elegant and smooth striker who bangs them away with ease, the reality is the boy is not hiding, and he is contributing.
He's got a long way to go to become a fan favourite – Danilo is now the poster boy, and in truth the Brazilian's game has massive hiked since returning from injury. He's impressed most. In terms of being a front man he will likely be first choice going forward. And we have no quarrel with that.
But Dessers unfairly attracts such derision despite giving back that while he doesn't do himself any favours with duff comments to the press and needs to learn to bite his tongue more, he is nevertheless not an empty jersey by any manner of means.
Dessers needs one big match, one impressive outing and he will win over a fickle fan base that goes off a player after one bad 90 minutes and bigs up the next Ronaldo if you have a good 90.
One good match and you can turn it around – look at Sima after PSV – he's never really looked back since that one.
That said, Dessers was incredible that night with two assists and he's still not exactly loved is he?
We know he's not Haaland, and yes, we'd rather have Colak, but Dessers is here and if Clement puts faith in the Nigeria international, the fans should too.