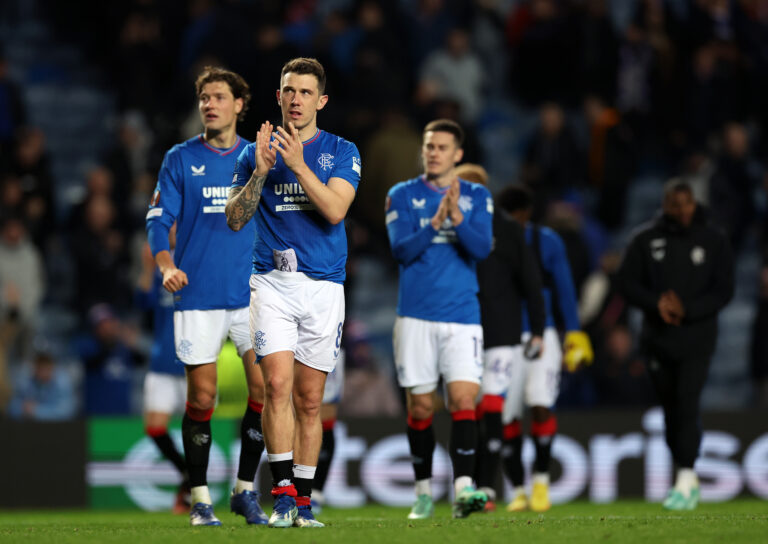 While the level in the second half last night at Ibrox notably dipped in that second half, once again Rangers found a way to grind out the result, despite the rather meek defending which led to what turned out to be Sparta's consolation goal.
This second half had echoes of the 90 minutes v Hearts, a poor performance but a result ground out, and once again the defence showed itself to be porous when Davies let his man go free to batter the ball into the net from close range.
There is little doubt Leon Balogun would have made a big difference there, but what actually matters is the fact Rangers won.
Despite that rather weak second half, Rangers held on, with a hint of fortune, true, but don't think for a second that wins at this level are always going to be as easy as the first half made it look.
It really was a match of two halves – a wonderful, free-flowing angry first half in which the hosts dominated for major spells and deserved both goals, before tailing off fractionally a little towards the end of that first half and then completely disappearing in the second half.
Many fans have pointed to Sparta's changes, and that suggested they should be given credit for digging in and coming back – we find this kind of handwringing a bit tiring. This is Ibrox, and we are Rangers, and we have a manager now who espouses the virtues of domination, of hard work, of energy, and tactics.
Even after the match Clement admitted his side didn't 'have the control (they had) in the first half' and that's something Rangers are going to have to develop to sustain for longer and the manager added that he wants to see that level for the full 90.
Many fans even further pointed to quite simply a lack of fitness. That the side looked jaded as the second half went on, and it's hard to disagree.
That was probably the main issue – while Clement admitted, rightly, that the opponent is a 'quality' side, the main factor in their ascendancy (as the boss affirms) was Rangers' inability to maintain that opening 30 minutes' level for the full 90 against a side of higher quality than the Scottish Premiership offers.
A key number of players weren't at the races overall either, John Lundstram guilty of tonnes of slack possession which in his midfield position was a big reason Sparta grew into it and began to win the midfield battle in the second, while James Tavernier wasn't vintage either. He's not replicating his domestic rebirth under Clement onto the European stage, having massively struggled in Prague.
But what did ultimately matter was the 3 points – it's hard to say this is a match we wouldn't have won under Beale or Gio, because, well, we did win v Betis under Mick and Gio absolutely destroyed the Europa League till the final, but what does matter is we're closing in on the next round.
This Rangers team, for a beleaguered mess only 5 weeks ago, is turning corners.
And there's a lot to be optimistic for. Just need them a bit more on the treadmills we think!