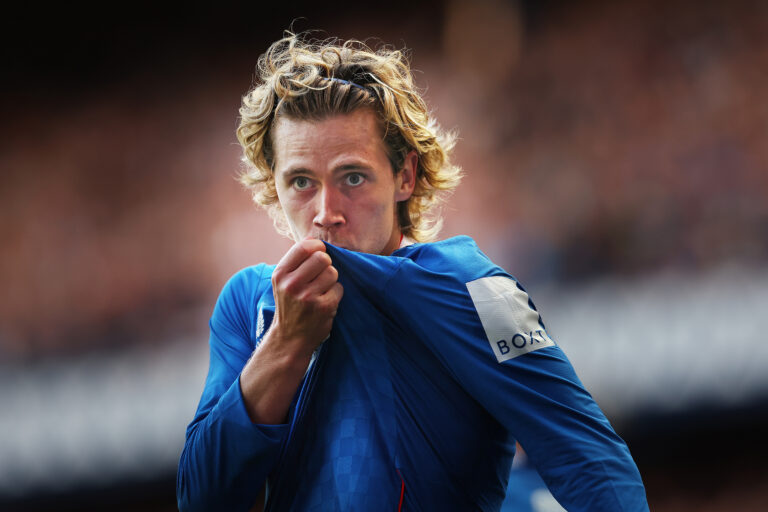 Because he's been out injured for so long, Ibrox Noise had almost forgotten about Todd Cantwell, the main playmaker at Rangers who's currently nursing a major knee injury. While return projections range from the middle of this month to potentially into November, nevertheless his absence has been noticeable as Rangers struggled for creativity in the middle.
With no Alex Lowry, no Ianis Hagi, Scotty Arfield gone and Kieran Dowell also injured, Rangers have had to get by with no real number 10, unless any deluded soul wants to try to bracket Sam Lammers in there.
No, Cantwell is the main man these days, but what exactly is the status of the former Norwich star?
Where does he sit in importance, and in form, for the Famous Glasgow Rangers?
Well, there's no doubt his January to May were absolutely stellar. He was looking a stunning investment and had many fans believing in ex-manager Mick Beale's talent-spotting ability with the addition of Cantwell.
Cantwell had previously carried a £40M market value, but Norwich got greedy and rejected a bid of that region from Aston Villa, demanding £10M more. The thing fell through and like his future manager at QPR, Cantwell lost focus at Carrow Road and before long, he was fringe, and on his way to Rangers.
And for those four months he was exceptional – again, like his boss, he exceeded expectations and became lauded quickly – strong, fast, technically excellent, great vision and wonderful composure, Cantwell looked every inch the kind of player who, in an alternative universe, could actually be an England international. He was also loving the club, and loving football again, and became a major fan favourite.
The problem, unfortunately, was Cantwell was thriving in a Rangers team with nothing to play for. Celtic were long gone and there was nothing to actually compete for, bar pride. With that lack of pressure or expectation, Cantwell was able to bloom. Not, funnily enough, unlike Nico Raskin.
But this season?
It's just not been there, has it. Up till his injury, Cantwell had been a lot less impressive than last season. Having been so dominant and expressive last season, this time, with the pressure on and every match being mega meaningful, while far from awful, the midfielder just hasn't shone in the way he did at the start of the year.
He has been unable to completely handle the demand on him, and live up to the expectations of what the pressure really is.
This is, as we say, not to allege he's been rotten, miles off that. He's just not sparkled and shone with those brilliant performances from last season, this time around. And that's the difference between non-pressure and pressure.
In some ways, his injury actually came at a good time for him, psychologically. It gives him a chance to refocus, re-process, and as someone on the outside recently looking in with the dire run of form Rangers have endured and the response to it, Cantwell can now see much more the expectations of being a Rangers player.
It felt maybe like he thought he had it made and when pre-season showed up and he seemed subdued, it was a bit of a wake-up call for him – and with his performances not quite delivering this term the way they did last, he has a chance to prepare himself mentally for his return.
Now he really knows what Rangers are truly about, hopefully by the time he is fit and Rangers have a new manager, he can return to that old form and sparkle like he used to.
We look forward to that.