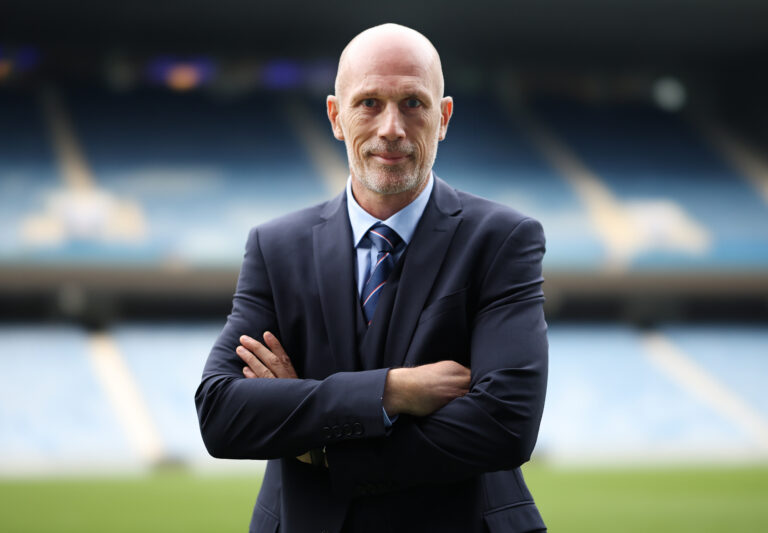 Rangers' new manager Philippe Clement today addressed the press for the first time, and Ibrox Noise, having been interested spectators for this spectacle, now offers our thoughts on his views and words.
First of all, we must say, we recall a sinking feeling when Mark Warburton was first paraded – after having wanted him 100%, that first press conference told us he was completely the wrong man. In fairness, he did storm the Championship, but how could he not? Completely found out in the Premiership.
Pedro was a nutjob and we knew from the get-go he was an appalling appointment, but what can you say?
Steven Gerrard we had a fractionally better feeling about, but weren't keen on Dave King hogging the limelight of his unveiling and ultimately Gerrard wasn't a success, despite stopping the 10 that he nearly caused, at a cost of £35M.
Gio? His press presentation was poor – he was cryptic, lacking in charisma, but we still liked him and respected him, given his CV and Rangers past, and despite the propaganda to the contrary, he was a success at Rangers, just not a liked one or supported one.
Lastly The Mick – knew from before the unveiling he was the completely wrong man, but kept quiet. 2-2 absolutely confirmed it.
So, with that all said, how do we hand on heart assess Clement?
He was fractionally anxious, but it looked to us like he liked feeling that way – the hunger in the man's eyes and the forthright way he put things without trying to sell us a lie was reassuring. Didn't make promises he can't keep, but looked focused, determined, and appeared confident in his own ability to make a difference. He wanted to impress, but wasn't bothered if he didn't – looked like doing the job to his best ability is more important to him than impressing the press.
In short, while there's always caution about a new manager, he gives reason for optimism. He seems assured, he looks like he has good ideas, and of course, his CV absolutely speaks for itself.
But like all managers, he'll be judged on results. He concedes he cannot put a timescale on anything, but if the players are receptive to his strategies, the impact could be quicker than we fear.
Our only complaint is he isn't changing the captain for now, but we do hope his guile and intuition demonstrates that the current one is the wrong man for the job and he makes a change. But all in good time.
In short, it's a thumbs up from Ibrox Noise, and our full and wholehearted support to our new manager.