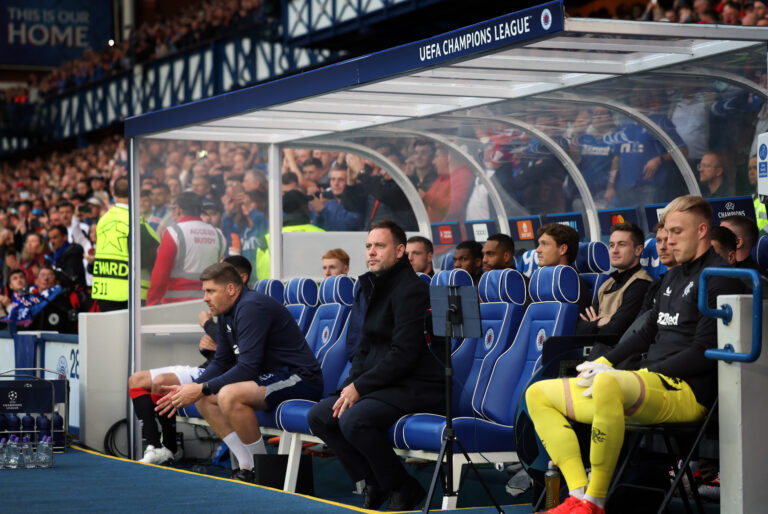 There is no doubt that the slim goodwill Michael Beale currently has from a portion of the Rangers support will be mostly gone if Rangers do not beat a jaded Celtic tomorrow.
After his absolute debacle against PSV midweek, Beale is already in last-chance saloon given the number of big-time occasion failures he's made already as Rangers boss, added to the fact that the basic bread and butter of any Rangers manager is measured on their results against Celtic.
Celtic themselves are on the ropes – their form dreadful, they have no defence, they have a manager who doesn't know what he's doing and a bunch of players unhappy with him and whose individual form is bad.
If Michael Beale cannot beat THAT Celtic at home with no away fans, he's a dead man walking.
Unfortunately, Ibrox Noise's growing faith in Beale was crushed on Wednesday. That the man still hijacks big occasions with bizarre choices and even odder soundbites, even after all this time of being our boss doesn't bode well for tomorrow.
We now only want and hope to be wrong, that he pulls a rabbit out of the hat and a big win to make massive doubters like us look silly.
We want to look silly – indeed, many would say we're really good at looking silly here on Ibrox Noise, ergo another dose of humble pie at Ibrox Noise HQ would be utterly welcomed.
We want to be lavishing praise on his genius for getting it right tomorrow, praising the players for a big performance and making a start on the road to 56.
That's what we want. Like you we're Rangers fans and we want Rangers to win always. Especially against 'them'.
But under this manager, and after midweek, our recently increasing faith in him and his 'vision' took a massive battering. Like our team did.
See, had we lost 1-0, 2-1, and just fallen a little short following a battling 90, you take it on the chin, be frustrated but move on.
But the absolutely dreadful system, tactics and performance not to mention the hammering result itself has us deeply concerned.
And if he doesn't get it right at Ibrox tomorrow and find 3 points and put us top of the table, our last remaining embers of support for him will be done.
That the goalie seems to be Beale's best signing says it all.
We need a better performance, we need a win.
Over to you Michael.