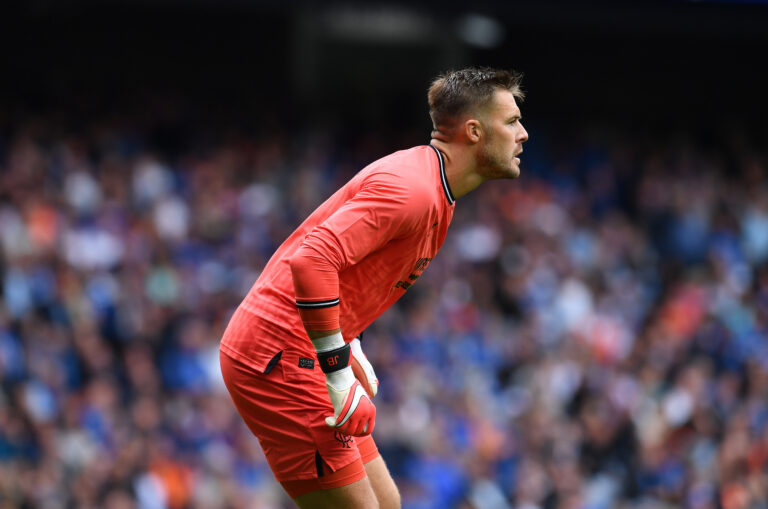 While Rangers might be lacking a bit on the 'Boyhood Bluenose' front, one thing we actually don't fall short on is leaders.
If Michael Beale has done one thing, it's to cultivate a lot of captains out there, and while you might be shaking your head and saying you see no leadership (not untrue and we'll get to it) nevertheless there are a lot of players now we can safely say have big and loud personalities.
Jack Butland is absolutely no shrinking violet. He's a strong-willed big persona, who got in the face yesterday of Bedia as he was trying to take the penalty. It didn't work of course, but the boy isn't quiet at the back, and it's good to have a loud goalie as McGregor was.
Connor Goldson, love or loathe him, is also a big personality – he had a better game last night, and while his form is generally mediocre, he isn't afraid to yell at people. True, a lot of it is blaming them for things that he's as responsible for himself, but nevertheless, as vice-captain, he's a bit of a leader.
John Souttar also is growing in stature among Rangers fans, with excellent performances and clear leadership. For a fairly young man, he's a big voice, and he's becoming a beloved member of the squad among supporters. He's a big favourite of Ibrox Noise.
Leon Balogun isn't being used much, but he is a big favourite and a loud guy – he commands a lot of respect and is definitely a leader. When on the field that is.
Nico Raskin is another one who has been touted as a future captain – we'll be honest, we don't agree at all. We see absolutely zero leadership from the lad – he runs around a lot, and does good work (little bit off form at the moment in truth) but is he vocal and captain-like? Not obviously, no. But he does have an air of big heart about him and that gets respect.
Todd Cantwell isn't big and vocal but he's working hard and his aggression is clear – he had a much better performance last night and he shows leadership by example – by covering grass and showing class on the ball. He's another one others look to.
So in terms of leaders it's not bereft out there. The problem that we alluded to earlier? The lack of cohesion and system working means even leadership is a bit redundant – players might bark at each other but if they're working to something that doesn't make sense, all the chiefs in the world can't polish a turd.
The system needs a lot of refinement and the players need to click into it.
And that seems to be taking time.
(and no, James Tavernier is NOT a leader)