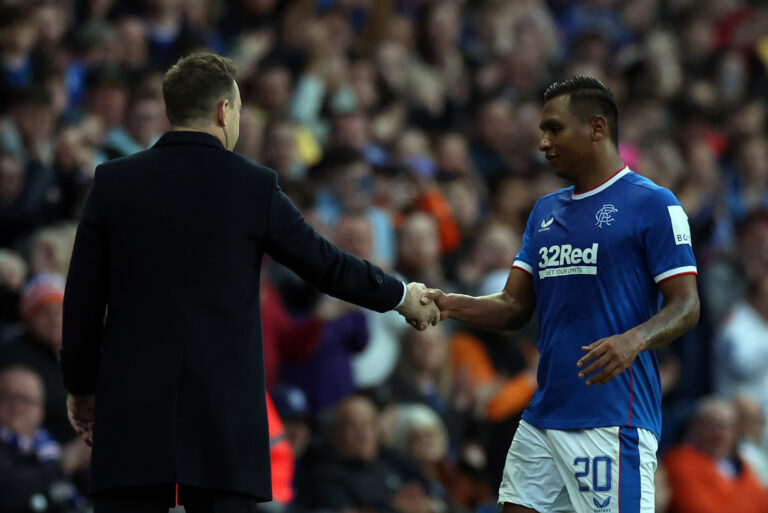 If there was one thing which completely passed by most Rangers fans yesterday, it was the dismal performance and result by the home side, with just Todd Cantwell (as usual) getting (more than) passmarks along with the ever-solid Nicolas Raskin.
Souttar, of course, also had a fine match, despite being paired with the completely out-of-his-depth Leon King, but generally it had the look of an end-of-season fixture with nothing riding on it.
The problem was it was anything but that.
While Hearts were going for third (they failed, btw) Rangers in many ways had much bigger things to play for.
One huge one was pride – to show Rangers fans respect by putting in one last big tubthumping shift at Ibrox and prove their guts were still in it.
But the other, ironically, was even bigger – their own Ibrox careers. A glut of these players are at threat of being displaced in the side, being sold, surplus, you name it, as the Govan clearout starts.
Not a single player who is at 'threat' of being released or slipping down the pecking order did much to persuade anyone that they have the heart or stomach to make a real fight for it next season amid the overhaul.
The likes of King, Kamara, Sakala and Lundstram didn't really do a whole heck of a lot to stave off the competition, while we do expect Ridvan Yilmaz to play a role next season and he had a decent enough 90.
But the four we mentioned? Sakala might have gotten himself a goal (a messy as heck goal) but it didn't persuade us he's the best we can do, and Lundstram was ok, nothing more.
The problem in many ways was Alfredo Morelos – starting a toxic, wantaway waster in the side didn't help to inspire the rest, and he had by far the fewest touches of outfield players, so putting him in there with his lazy workrate didn't get the best out of many of the rest.
And the overall performance? Pretty poor again. The early goal was a complete shambles, beaten only by the atrocious officiating which initially ruled it as offside, and that set the pattern for a flat 90 in which 2-2 was about right.
That them lot were gubbed at Easter Road is redundant now, that stuff happening when a title rests on it is when it matters, but for them it's season over.
For us, it's a rebuild, and last night only proved (yet again) how much work is needed.