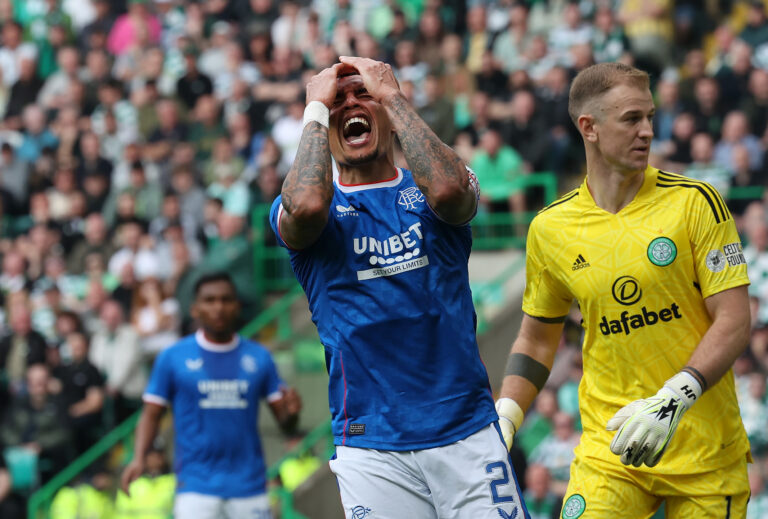 For all the praise James Tavernier is getting (we weren't as warm with our words on Ibrox Noise) from Rangers fans over his contribution at Parkhead, it all forgets one very worrying fact:
We had to rely, again, on a defender, to (nearly) bail us out of a jam.
That not a single forward, Morelos' ridiculously-ruled-out goal notwithstanding, could score a goal or lay a major glove on Joe Hart's goal is deeply concerning, and we had to rely on Tavernier to score from a set piece and a (sort of) corner (it was a little while after he'd taken the kick himself) shows how deeply and desperately thin up front our productivity is.
That James Tavernier has become our most prolific goals scorer this season (15 goals 6 assists) is a literal disgrace, a damning indictment of Rangers' attacking options and their deep ineffectiveness.
Ibrox Noise engaged a debate with a user recently, whereby his response to Rangers being second-best was 'tighten up defence and take chances' and that was that, we'd be the best.
This is beyond missing the point – Rangers' issues ARE with wasting chances, strikers and forwards like Ryan Kent and Fashion Sakala and Morelos too, wildly missing and wasting opportunities.
That's what a major issue we have is, and his solution is just 'oh don't waste them then, we're fine'.
James Tavernier is the only player we have who is actually taking his chances, who scores penalties, who scores at all, really. His shot accuracy is 62%. Morelos is 49%. That's it in a nutshell right there, why we're struggling. Tillman, 57%. Sakala an embarrassing 40%.
Oh well, that's that sorted, we just don't miss instead. If only it was that simple.
Well, maybe Tavernier could teach everyone else how it's done because this defender seems to be the only player Rangers have who capably delivers in the final third.
That, absolutely, undeniably and unequivocally, is deeply concerning.
He's having to carry the weight of the strikers and midfielders who just aren't scoring, and he's doing it himself.
And it's a reason why the rest of his game has started to deteriorate so much – he's being captain (not a very good one let's be honest) a striker (a very good one) a right winger (an alright one) and a right back (not a great one).
Whatever you think of his qualities, Tavernier is basically having to play FOUR roles in one, all because our midfielders can't score, our wingers can't assist or score, and our strikers are basically useless.
Is it any wonder we're looking at Shankland!