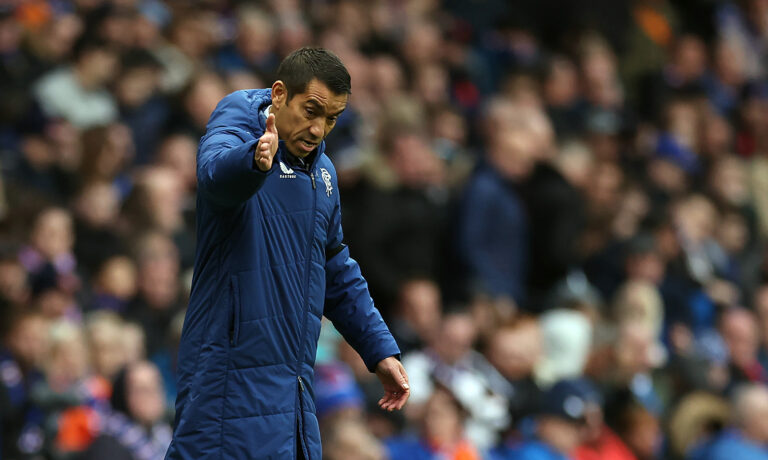 Rangers fans have overwhelmingly voted that Giovanni van Bronckhorst's time at Rangers is up, with a straw poll finding 95% of all responses were in favour of his being shown the door or leaving it himself.
After the horrendous result at McDiarmid Park today, patience has run out for the vast majority who now see 56 disappearing into the distance thanks to a 7-point gap opening up at the top of the table, with Celtic gritting their way to a win yesterday.
And Gio had no answers yet again, with a loss to explain what's going on at Ibrox and the fans having a go at players outside the stadium as they left.
Let's be clear – Gio is NOT the only issue here, there is an endemic rot throughout the squad and certainly among the board – every area of the club isn't working right now, and the result on the pitch show this.
From the board picking stupid fights with everyone, to their diabolical treatment of fan sites (more on that later), to the manager making bad selections and decisions, to Ross Wilson's signings just generally not working out, there are problems everywhere in the club and it doesn't look like it'll improve any time soon.
And it seems Gio is the man who will take the fall for wider problems, problems which might include him but don't start with or end at him.
The season is threatening to run away, and fans have clearly had enough of him, even if many like him as a good Rangers man, including ourselves, but evidently support for his era at Ibrox has worn extremely thin with not even the first week of November over and 7 points behind.
Some have suggest he should do the 'decent' thing and resign, to save the club money, but frankly we don't agree – he made Rangers a lot of money, with UEL and UCL, and has been denied almost all of it. If he wants to get a few quid back from a greedy board, we don't blame him.
Nevertheless, the fans have definitely spoken clearly now.