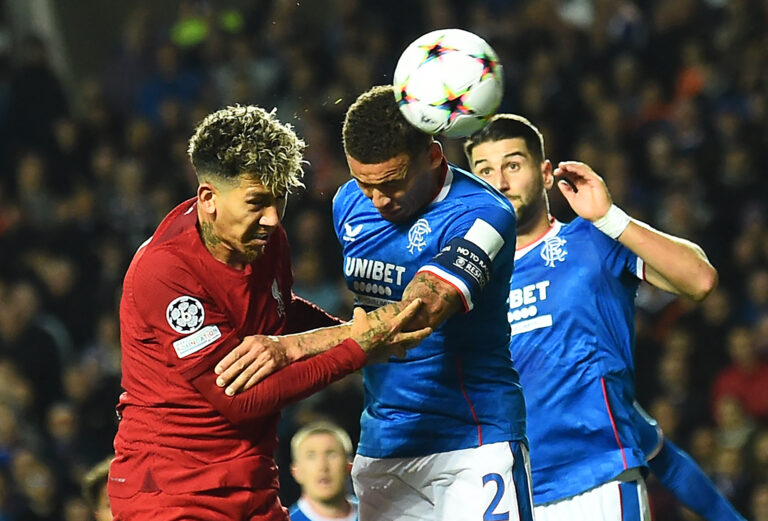 This was a deeply, deeply sore night for Rangers – it's the joint-worst loss in the history of the club, stretching back 70 years, and while that first half certainly promised a strong performance and even teased us briefly with a stunning win, the glory lasted only 7 minutes as yet more diabolical defending cost us.
Then the loss of Goldson made things tricky, before a second half collapse took the side to new depths in this competition.
Once again, let's be clear – this is a rank rotten Liverpool, who languish in midtable. They have 4 wins all season, and two of them are against us.
That's how terrible they are.
But something went shockingly wrong for Rangers tonight – whether it was James Tavernier's diabolical and shameful defending, Allan McGregor's weak all-round work in conceding the corner and failing for the opening goal, or any other number of players failures, or whether it was Giovanni's beleaguered decision to make any subs till far too late, this was a systemic and wounding failure from top to bottom.
It had started great, it really had – fight, purpose, movement – it wasn't outstanding but it was better. And then Scotty with a top-class finish off Jacko's assist Made Us Dream.
Even the conceded goal, bad though it was, didn't make us think this one was over.
Goldson's injury, that was where things changed. Rather than bring on the fairly experienced James Sands or bring Lundstram back into defence, Gio took a gamble and put Leon King on. We're not going to blame him for putting his faith in a promising kid – former managers never would do that and we whine at bosses all the time for ignoring youth.
And this time, it didn't work because it was a defence which ended up being about 3 first team appearances between them. Exaggeration but you get the point.
Absolutely zero relationship between 18-year old King and Davies who is still feeling his way into the team, and Rangers paid big time.
Add to this Tavernier's literal inability to defend, not to mention Borna's cowardice, and it was a recipe for disaster, which is what happens at this level of football.
We imploded here, Liverpool didn't have to do a LOT to get the 7 goals, but we will say hand on heart they played a tonne better at Ibrox than they did at Anfield. Anfield they were poor, obviously poor, and we handed it to them. This time, we just caved horribly due to a combination of ill-fortune and bad prep.
The biggest crime here?
The exit of Leon Balogun and, we suppose (although we don't rate him like you all do) Calvin Bassey, but not replacing them with enough quality.
Davies is now coming onto a game, but there's NO ONE for the right side if Goldson was to get injured. His only replacement is himself injured.
What we may have now is reliance on Sands and King, alongside Davies, and we have to say that's not terribly reassuring.
The club was poor in the transfer market, and we are now paying the price in part for that.
We certainly did against Liverpool, who were essentially gifted two wins in a row.
What now? Well we're out of the UCL and now have only a 0.1% chance of getting to the UEL in third place, so we can probably forget Europe completely.
Is that such a bad thing?
We can concentrate on 56 alone, because as things stand, it's our level.
Far too strong for the SPL, nowhere near good enough for the CL. But then, didn't we already know that?