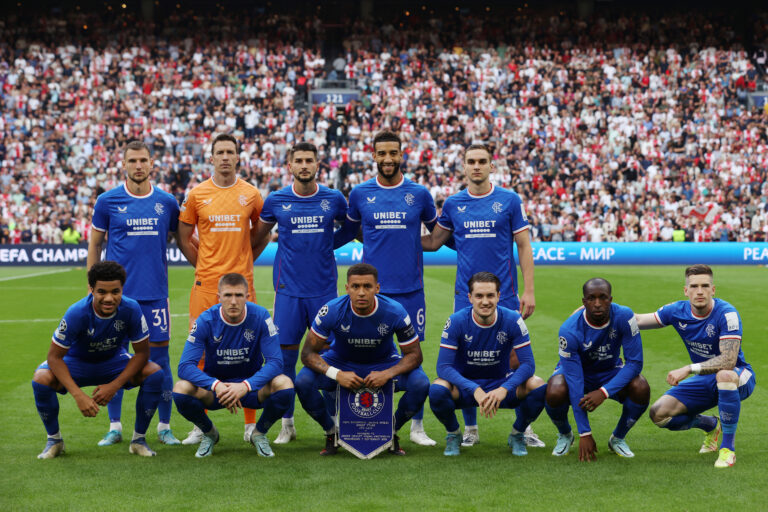 So as Ibrox Noise's Derek has pointed out, Rangers have a bit of a tough ask tomorrow night v Napoli.
Sure, their last domestic performance was unconvincing v Spezia, but this is a side arguably stronger than Ajax and who easily dispatched Liverpool on the opening match day.
What do we need from our Rangers?
As Derek rightly said, we need the defence to actually act like one – Goldson to jump, communication to be strong, and discipline tight.
The rearguard has been absolutely ravaged in the last two fixtures, exposed for the poorly-designed mess it was, and we sincerely hope our manager has sorted that out and knows exactly what the issues were and how to resolve them.
As Derek pointed out, if Goldson ducks or turns his back once more, Rangers fans, already extremely disheartened by his performances, may largely be done with him completely, if they aren't already.
He needs to grow a pair, and his colleagues do too.
But it's not just that, it's everything.
That ghastly show at Parkhead was beaten only by an even worse one in Holland, and while we alluded to fear being a factor in Holland, what was the excuse for the apathy in the east end of Glasgow?
So many players didn't turn up or weren't good enough in the first place – McLaughlin, Goldson, Tavernier, Kamara, Kent, Wright… just some of the names of players who let the club down or weren't up to the level from the get-go.
We need more tomorrow.
Boy do we need more.
Rangers fans can tolerate a loss as long as the team puts its heart into it – we hate the example, but Celtic gave it a go v Real, and while outclassed, they didn't lack for effort.
It's absolutely disgusting to say Rangers players need to look at their Parkhead counterparts' example for how to acquit yourself at this level, but they've brought it on themselves.
And that goes for Gio too.
So we expect a tonne better tomorrow night.
From everyone.
Anything less and the pressure, which is currently building, may already hit fever pitch.
Give us something to cheer, Rangers.