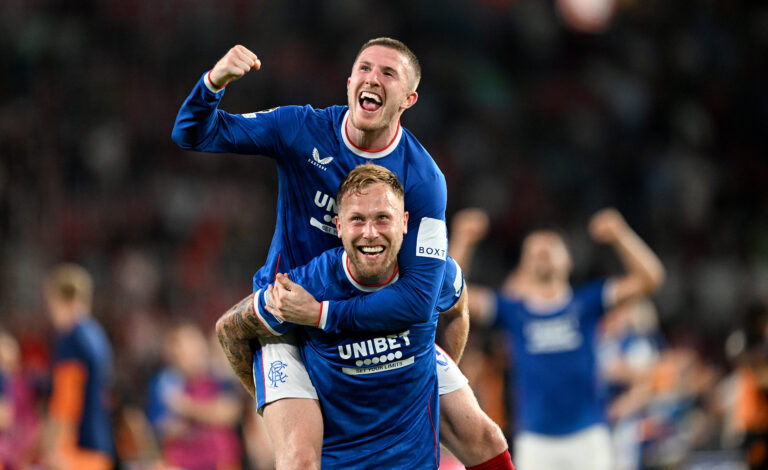 Ok, having calmed down (not really) from our sensational win in Holland, we're going to provide the ratings.
Everyone gets a 10. But we'll analyse the performances anyway on what was the biggest night of these players' careers, one and all.
McLaughlin:
This was, by an absolute distance, his best display in the shirt. A couple of key saves, some excellent anticipation and clearances, and while we're not saying this was up there with McGregor's best, it was very, very good, and without doubt the best match of his career.
Tavernier:
Absolutely completely outstanding – did not put a foot wrong all night, was excellent at the back with some key interceptions and blocks, and kept Gakpo very quiet. He was absolutely superb in the second half, with a lot of outstanding leadership, instruction, and fine hold up play. His best night as captain? Yes.
Goldson:
We've been hard on him, and what you don't know is we've had 99% support for those views. We stand by them. But we also give credit where it's due, and he made some big clearances and one or two good interceptions at key moments. He was maybe less impressive than some others overall but he was still extremely good.
Sands:
He made one or two hairy errors, no denying it, but my God he made up for them with some massive tackles, blocks and clearances. He showed big courage for one who gets such criticism and put himself in the hurt at least once. He was not quite outstanding due to the errors, but he was close. He's a developing player and watching it happen is very interesting.
Barisic:
Being honest, Borna wasn't incredible going forward – most of his possession game was spent passing to Sands or McLaughlin, or slicing clearances out for throws, but as a defender he was very strong, and put himself about, never shirking his responsibilities. Only one or two crosses really came from his side.
Lundtram:
Oh how we've MISSED this. This was TITANIC Lundstram back in the right position, which we were just talking about earlier, and guess what, the old self was raging. He was massive, big tackles, lots of interceptions, and he soaked this one up. We loved his one on ones with any PSV player because there was only ever going to be one winner. Brilliant. Keep him here Gio.
Kamara:
This was actually the best he has played in months, genuinely, and we've been hard on him too. He literally ran out of steam by the time he was taken off, but whether he was playing for a move or was genuinely wanting his side in the UCL, he was outstanding. Strong, composed, rarely wasting a pass, we trusted his every touch of the ball. Maybe his playing more advanced was the difference.
Kent:
Being honest, Kent wasn't sparkling, and didn't really beat anyone, but he did cause a few problems with some cut-ins and looked in the mood. But Teze did once again have the measure of him and limited his effectiveness once more. Also made a horrible decision late on when he had the PSV defence at his mercy.
Tillman:
Some absolute brilliance from the American who is looking more and more a must-buy. He wasn't consistently outstanding, with one or two bad decisions, but generally was gorgeous with his touch, and of course, he set up on a plate the winner with some stupendously composed play. Wonderfully unselfish from him.
Lawrence:
Was so unlucky not to have a 'Kemar who' moment with that run and shot, and played extremely well at this level – another very good performance from a talent who's developing and getting more and more used to this team, manager and system.
Colak:
Jesus, if we didn't already think he was a bargain at £2M, we do now. Goalak, as he's now called, is possibly the best striker signing Rangers have made in recent memory – same impact as Mols. He's been that good. Goals galore, but more tellingly, his hold up play was absolutely world class. He was the world's best-hidden striking secret, and we have him for £2M. On this evidence, he could score for fun in the tournament's group phase.
Subs:
Wright:
One really poor decision aside, he was great, showing pace and making a nuisance of himself. Bought a brilliant free kick and booking with sheer pace and industry. He couldn't have done more even if a bit of inexperience at this level did appear now and then.
Arfield:
He was magnificent. Superb cameo, wonderfully calming, great leadership, and this is why he's invaluable. Didn't waste a pass and was exactly what we needed.
Sakala:
N/A
Manager:
Ahhhhh Gio, boy we've been critical of you recently. We love you tonnes, but we have expressed our opinions. And did YOU pick the night to shine, to finally win away from home when it truly, truly mattered. Tactically got it bang on, and while there was a little luck ridden now and then, he outfoxed Ruud and limited PSV significantly. This was without doubt his finest night as Rangers manager.