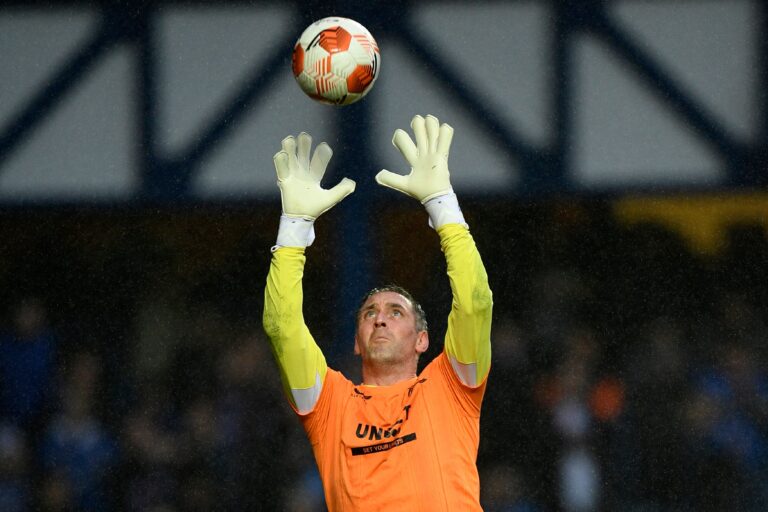 By way of a build up to Wednesday's final, for anyone who hasn't already done so – there are far less enjoyable ways to fill an hour and a half (give or take) than watching all the highlights of our Europa League campaign so far.
They're all available on Youtube (other video sharing sites are available) and posted legally by BT Sports, from Alashkert to Leipzig and everything in between – you're welcome.
It was doing this however, that brought to my attention the need to single out one particular player, with the realisation of just how important he's been in this Europa League run. Whilst at this stage, I could easily, legitimately be talking about near enough anyone in the first team squad – Tavernier, Kent, Morelos, Goldson, Bassey or even the "best on Earth" himself John Lundstram.
But no, the one man who really stood out was none other than Mr Allan McGregor. Sure, we all know he's had another stellar season and has pulled off some big saves in Europe but it's not until you're watching all the highlights back-to-back that you realise just how important the man has been for us.
Not to go into too much detail, so as not to ruin it for those of you who'll go on to relive it all again – we're talking about 2 or 3 HUGE saves in just about every game. From THAT penalty save at home to Red Star at a crucial time in the match, to the critical save he makes from Donyell Malen at 1-1 in the second leg at Ibrox against Dortmund. Not to mention the overlooked miracle stops he produced home and away against Sparta Prague in the group stages which of course kept the goal difference down and ultimately secured passage to the playoff round in the first place.
The man is 40 years old! Midway through his 41st year on the same Earth that "John Lundstram is the best on." Even without considering his age it's mightily impressive, but all things being equal – S**gger is superhuman!!
Clearly we don't know how much longer we'll be lucky enough to be calling him our number 1, but let's suspend our emotions for a minute to consider this somewhat overlooked scenario – an appearance from McGregor in Seville on Wednesday night makes him the oldest player ever to play in a Europa League Final, and yes that extends to the old UEFA cup as well. Shattering the current record by Italian Amedeo Carboni, who comparitavely was a tender 39 years and 43 days old when Valencia defeated Marseille in the 2004 final, some 18 years ago.
Never one to do things by half though, this means that not one, but two records are up for grabs for our number 1 on Wednesday, as if we win the competition, he'd not only be the oldest player in a final, but the oldest winner of the competition too, 40 years and 107 days young.
As an aside, also on the table is "youngest scorer in a final" which both Amad Diallo and Alex Lowry would become if netting in Seville, as well as former assistant boss Gary McAllister's record of "oldest scorer in a final". That one could be claimed by Davo, or why not by a last-minute winner/equaliser from McGregor himself!! If Tav can get tournament top scorer from right back, as he appears almost certain to do, in keeping with the theme of Rangers in Europe this season, knowing what we know about McGregor – would you bet against it?
One thing is absolutely for sure – the man you've been reading about for the last few minutes will go down in history as one of the greatest players in the club's 150-year history, a history that he's been around for more than 25% of. If this is to be his last game for Rangers (we know Gio has been giving McLaughlin the cup games) what better way to end it all than with European glory and at least 2 new competition records. Again, knowing him – he's capable of a penalty save into the bargain as well.
Put simply – he's one of a kind and big statement though it may be, when we consider him (as we must) alongside some of our best goalies in memory – Klos, Goram, McCloy, Woods, victory and another telling contribution in the Uefa Europa League Final might just secure his place as the number 1 there as well.