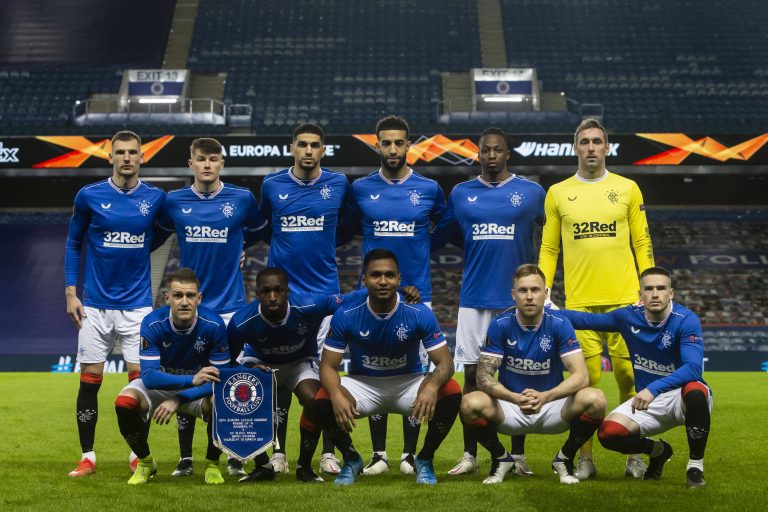 So, not that it really matters, but we'll have a little look at Rangers' loss to Slavia on a football level.
Let's be clear – Rangers put in easily their worst European performances in this tie – the passing was poor, there was a lack of invention or flair, and only Ryan Kent actually seemed in the mood in the second leg, with Joe Aribo receiving the plaudits for his shift in the second half last week.
There was a lot that went wrong for the home side tonight, but if one thing wound a lot of fans up, especially once his replacement got sent off for a second yellow, it was the bizarre dropping of in-form Filip Helander.
We have no idea what inspired that – Alan Hutton suggested pre-match it was to press Slavia high, but then he also reckons Rangers have been flying out of the traps in the past few months so we're not sure how seriously we can take him.
But it didn't work – Rangers were caught a lot of times, with Goldson, Patterson and Balogun struggling to work together as a unit.
Patterson, incidentally, had a fine match, and continues to develop – he's doing so at a rapid rate for a 19 year old at this level, and many fans view him as the natural successor to James Tavernier.
Midfield was caught short, unfortunately – Davis, while carrying out some excellent clean-up play and reading a lot of plays, was unable to influence with his usual passing range, and Kamara was barely involved at all.
It wasn't helped with another managerial curiosity from Steven Gerrard, with a bizarre switch for Joe Aribo wide on the right. He's been excellent lately with a free-roaming midfield role, so why he was put to his unfavoured wide right slot only Stevie knows, and even worse was throwing Scotty Arfield into his position instead, a slot the Canuck goliath hasn't been playing much of at all recently, and one he really struggled in tonight.
Up front, Morelos was having a bit of a sub-par day of it, but Kent was on fire.
This was where the flying winger got manipulated by the cynical b*st*rds from Slavia, as they each took turns to stop him illegally, but ensured no one did it more than two or three times, to avoid bookings.
It rendered Kent impotent, despite how excellent he was, because he was being blocked and fouled constantly, but no bookings were ever seen for it.
As for the goals – Goldson was completely made for the opener, and McGregor might feel disappointed he was beaten there, while the second one was unstoppable.
And then the reds – no complaints about Roofe – it was a deeply reckless if unintentional moment, and he drew a river of blood from Slavia's number one. And Balogun too got caught with a terrible touch and failed to retrieve the mistake.
In the end, we can't complain about the result. Slavia were better than us over the two legs.
What we can complain about is their complete lack of dignity, their racist attacks, and their deeply cynical hatcheting of our players.
We get winning at all costs but this was horrible to watch.
If they think their own dignity is a price worth paying to get them to the last 8, be it on their conscience.
Rather lose with dignity than win with dishonour.