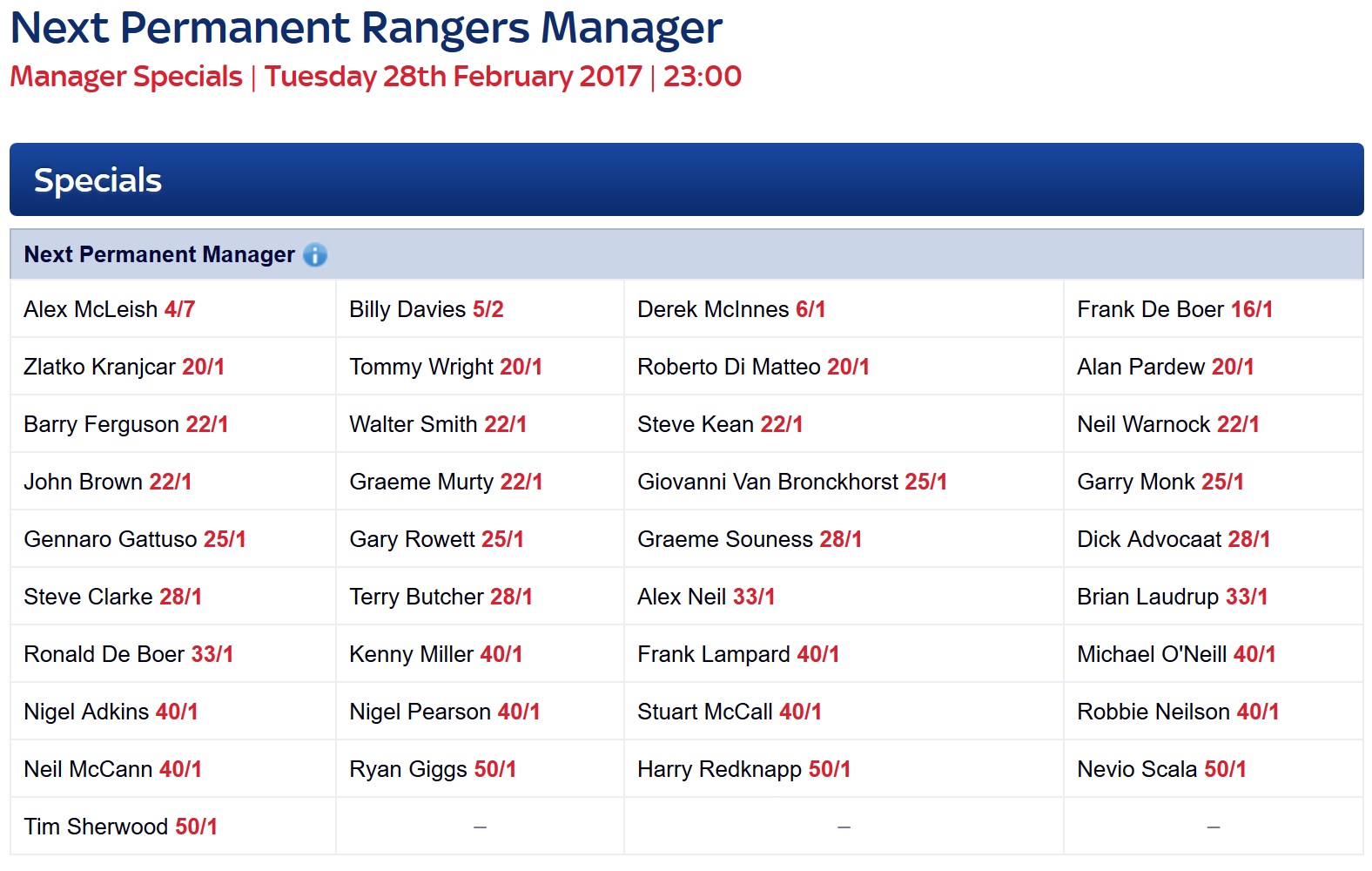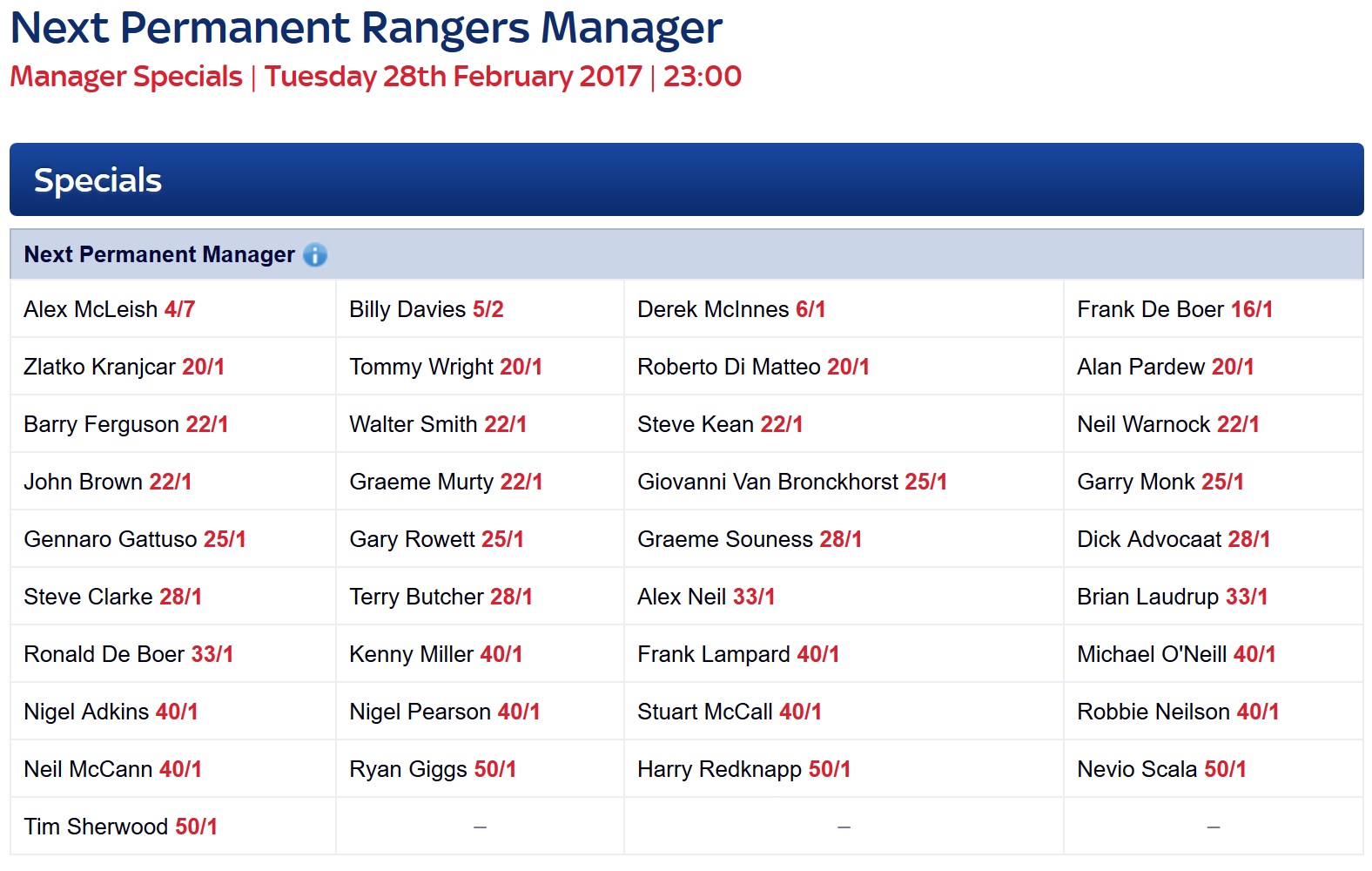 Article by: Greg Roots
Via Jim White, it appeared to be confirmed today that Dave King would seek to appoint an interim boss to see us through until summer so that himself and the board could be given some breathing space and time in order to ensure that the next permanent appointment was the correct one. Loads of fans will have differing opinions on who the right man for the Ibrox hot-seat is, but one thing we can agree on is that there is absolutely no room for error unless we fancy being also-rans for the foreseeable future.
There are several issues in play which have to be addressed before we can arrive at the ideal candidate for the job given our current circumstances. The main ones are; fan expectations, having a footballing strategy and of course the financial constraints faced by the club.

Gone are the days where men like Sir Alex Ferguson and Arsene Wenger can build their own legacies at a football club. Modern football reflects a game where managers are just pawn pieces, brought in as hatchet men to do a job, whether it be fighting relegation or winning a title, and then disposed of by an unhappy owner or leaving under their own volition to get a better gig. This links in nicely to the apparent approach from the Club to speak to Ross Wilson, Director of Football at Southampton, to join the Ibrox setup where he would be given the task of implementing a football vision within the Club which can operate well into the future regardless of the managers we bring in. It would involve installing proper scouting networks, taking the Academy seriously and harmonising all of the footballing staff with a vision looking towards a Rangers which is challenging for the title again.
Ambition has to be shown for this point to work, or else we will always be playing catch up to Celtic in the title race. There is no point in bringing in a strategy which will challenge the current Celtic setup, because if they improve then we are back to square one and still playing catch up. It really goes without saying, but to restore ourselves to former glories then we really must aim to be better than Celtic as soon as possible, and of course this is where the financial restraints come in.
We do not have a majority shareholder who can bankroll us, and our current revenue model is shabby at best, partly due to the old regime as well as the new one. This then means that the money is not there to spend our way to the summit of Scottish football. So do we just give in and accept second place? In come fan expectations, and to answer my question, no. Second will never be accepted by a true Rangers fan. The result of this is, and nobody can dress it up any other way, that more investment is needed to compete for the title. I am clearly not psychic and do not have access to the RFC wage bill, but I would estimate that we would need to spend £1.5-£2m on a new manager and then probably a gross spend of £8-10m on a new squad to get us back challenging. Where will that kind of money come from though? Answers on a postcard please.
Now to the candidates, and we really are stuck in a tight situation. There is a plethora of managers who could come in and get better value for money than Warburton on the same budge and cement our place in second in doing so; Tommy Wright, Alex McLeish, Derek McInnes, Gary Rowett etc. However, I don't see any of these men taking us to the next level, certainly without a large transfer kitty. For that we would need someone of Frank De Boer's ilk, or I would even love to see Gary Monk get the job. But back to the catch 22 situation, we cannot realistically afford these men without extra investment compared to the current level.
If the board dig deeper into their pockets as well as attract better sponsorship then the latter names may be a reality, but until that point they are a pipe dream and I wouldn't expect someone of the calibre that we deserve at our great club.