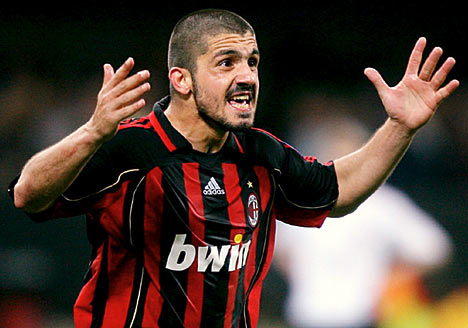 Over the years it has to be said Celtic have had more than their fair share of big-name signings. Roy Keane, Freddie Ljungberg, Craig Bellamy, Robbie Keane, Ian Wright and other well-known players, sometimes in the twilight of their careers have joined the Parkhead side and brought in a fair whack of cash in merchandise sales as a result. Admittedly the wages said players have commanded have been huge, but while there are many criticisms to be made of how Celtic conduct themselves at times, one thing they have definitely got right is tapping into new markets with big name stars (Nakamura is another) and making a healthy profit from it. The fact some of these players failed at the club and were shipped out after less than a year in most cases is neither here nor there, it is a useful avenue of revenue and helps with morale too.
With the news Rangers are in talks with former player Gennaro 'Rino' Gattuso with a view to the former Milan star making a much-heralded comeback to the club he started with, the Ibrox men look to be engaging a similar line of activity. An aging star, with well over 300 appearances for the Rossoneri and over 70 caps for the Azzuri, whose intention is to complete the cycle of his career and end his playing days at the club it all started for him at.
At 34 it is clear to see Gattuso is no spring chicken, and while Milan supporters generally felt that his time at the club had reached its useful conclusion, there is no denying that, theoretically, a grafter like Rino with so much experience at the very top level is a truly massive signing should it come off. Gattuso himself has stated it has nothing to do with money, and that is rather welcome given the club has very little of that particular commodity available at its disposal. However his wages of £80,000 per week at Milan will require a reduction to under £15K at the most at Ibrox, and even for a man who is not interested in a high wage, this level of reduction is vast. That he remains in negotiations is truly remarkable.
"I played for AC Milan for 13 years so money is not an issue. I spoke to Ally McCoist during the week and he was happy I wanted to return."
Gattuso has supposedly rejected overtures from China and the Middle East offering massively inflated wages, even potentially compared to those huge chunks of cash he received at Milanello, so if this course of action does not show money to be the least of his interests, perhaps nothing will.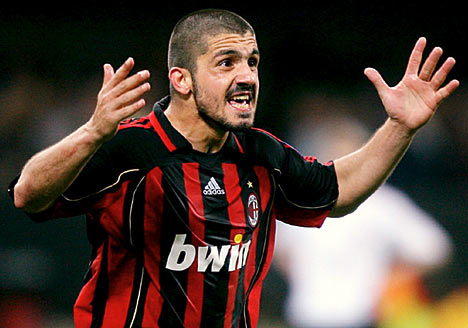 This picture sums him up – passionate to the last.
So what would Rangers be getting if Gennaro, a free agent, hence no transfer fee, does indeed 'return home' to Glasgow, and sets up shop back in Scotland? One thing which never changed down the years is his incredible will to win. While not the most technically gifted or most creative (his goal record for a midfielder is absolutely dire) Gattuso is one of the most British continental players there has ever been. With a full-blown bulldog attitude, he will run day and night pushing and harrying opposition players, forcing them into mistakes. He very much encapsulates the 'blood and thunder' of a passionate footballer, and has gained a great deal of respect in the football world for this.
Monica, Rino's wife, is Scottish – another reason to come back.
He does the dirty work others do not want to – he presses, tackles, and covers vast swathes of turf so that the glamour players in the side can show off their array of passing. Gattuso's passing itself is pretty basic – you will not get many lobs, nor cutting through-balls. He usually cleans up a mess then gives it to the closest creative player he can find.
However, the negative side to his game is when his Latino blood gets the better of him and he loses his temperament – he has been sent off more than once in his time and has had his fair share of bookings. Of course, in recent times the most famous incident was when Joe Jordan, assistant coach at Tottenham, found his throat inside Gattuso's hands during an ugly confrontation on the sidelines when a Champions League last 16 match between the two clubs flared up.
It would have to be said though, the SPL is quite a different league to either Serie A or the CL and, in theory at least, a player with the quality and experience of Gattuso really should find it a stroll. That said, better players than he have struggled in the goldfish bowl that is the Scottish Premier League.
Let us hope his 2 Serie A titles, 2 Champions League titles, One Supercoppa, one World Club Championship and two Uefa Super Cups with Milan will stand him in good stead for dealing with St Mirren.
It is possible his world cup medal with Italy may help too.