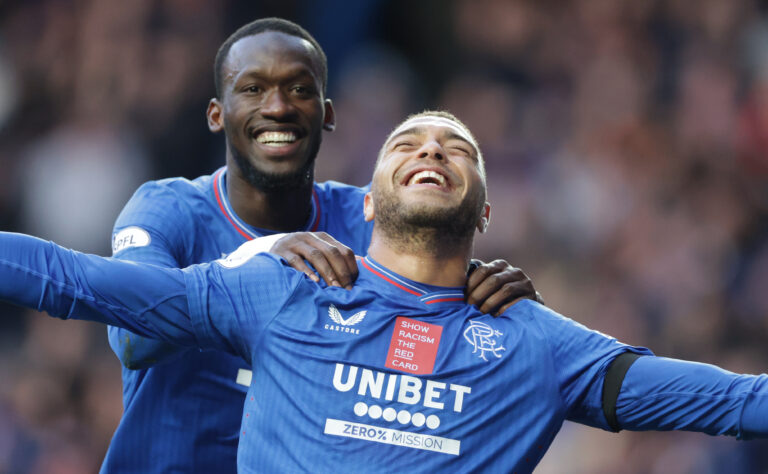 In a wide-ranging interview on Rangers' on-loan attacker Abdallah Sima, ex-Brighton assistant Billy Reid, himself a boyhood Rangers man, who was heavily involved in the process of bringing the former Slavia forward to England, has definitively cleared up where the Senegalese international's best position is.
Brought to Ibrox as a seeming 'winger', Ibrox Noise actually quickly pointed out to our audience that in fact the forward was a striker, who had played up front many times in his career and that was actually as much his main position as the flanks.
And Reid confirms this:
He is fundamentally a 9, but he does a lot more with the absolutely electric pace he has, and can, as Reid says, also cut in from the left and use his right peg to cause a lot of damage.
But fundamentally, he is a striker, and looking at his career stats shows why:
As LW he has only played 12 matches, but scored an excellent 6 times. As striker it's 9 in 30 with 3 assists. As RW – 19 goals, 6 assists in 39.
And if we look at the overall numbers when settled in a league:
Slavia Praha – 16 goals, 7 assists in 29. Decent for a young attacker. Rangers, 9 in 16.
Simply put he's a goalscorer with overtones of being a flanker – he has the tools of a winger, quick, powerful, pacy, good runner – but his talent is scoring goals, and this makes 22-year-old Abdallah Sima a potent weapon.
After a rocky start at Rangers, a run of games has seen him become outstanding, and free-scoring.
No wonder Brighton plan to sell him for a king's ransom.