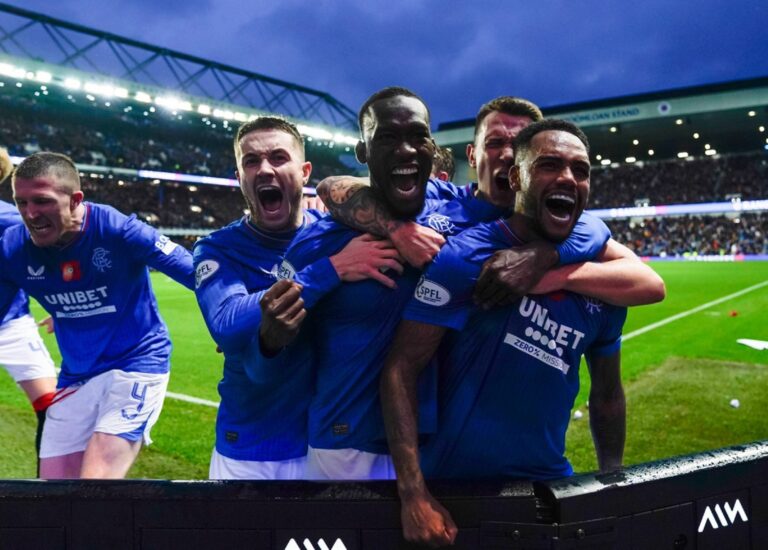 Rangers capitalised 'until they died' against Hearts in a gruelling performance but ultimately a massive, massive 3 points which closed the gap to Celtic to a very palatable 5 points.
Ibrox Noise scores the players for a truly gigantic result following a midweek marathon in itself v Prague:
Butland:
A complete non-event. A couple of passbacks were all he had to deal with aside Shankland's absolutely stellar header which would have beaten any stopper. 6
Tavernier:
Another match becomes all about James Tavernier as he missed a pen, scored one, then assisted the winner. Actually offered more defensively than any other Rangers player, and threw a ridiculous 15 crosses in, 5 of which hit their mark and one of course being the assist. Was a bit loose for the opening cross which led to Shankland's winner. 5 key passes show that he had a much better match than in Prague. It would be 9 if he hadn't missed the pen or been culpable at the opening goal. Yes, Ibrox Noise giving Tavernier 8
Goldson:
Very mediocre from Goldson. 5
Davies:
Very mediocre from Davies. 5
Ridvan:
Had no chance v Shankland so we're not blaming him for being shorter, and otherwise offered plenty – 14 crosses, 3 accurate, as much as Tavernier but not as big in defence. 4 key passes. 7
Lundstram:
Not as strong defensively, wasn't making many blocks or tackles, but didn't need to – passed the ball round plenty, saw lots of good opportunities and made some good long balls, and had more of the ball than anyone. A staggering 122 touches. 8
Raskin:
Neat enough, but not heavily involved, just 46 touches. Not enough work into this one, and went off injured. But needs to bring more to matches. Still lacking the magic of last season. 6
Lammers:
He really struggled to make anything stick – heart of a lion and keeps going but his quality is desperate. Just lacks confidence and ability. 5
Cantwell:
Won a big penalty but his captain couldn't convert, but tried to make things happen even if few of them paid off. Like Raskin, just lacking the magic of last season. 6
Sima:
Lively from Sima, although his passing was bad. 4 shots, 5 key passes and even added some defending again. He's a man in form. 7
Dessers:
This boy is really, really struggling. 17 touches, and a poor 60% passing told its own story. He's becoming very, very unpopular and PC would do well to take him and Lammers out of the firing line. 5
Subs:
Danilo:
Another big header from Danilo – literally picked up from where he left off. Turns out this boy could be, by a distance, our best striker. 8
Wright Jack and McAusland helped to turn this one around, all looked bright and Rangers kept going thanks to the injection they all added.
Manager:
Clement was thrilled with the win, he won't be happy with the performance, but this is the winning mentality he wants from his team. Even when you play bad, you still win, and that's what being Rangers is. Now, if he could figure out how to get them to always play that would be great. Basically, this terrible team display (despite some of the individual scores) would have been a big eye opener for the manager to see who's cut out for this team and who isn't. He'll have learned a lot. 7