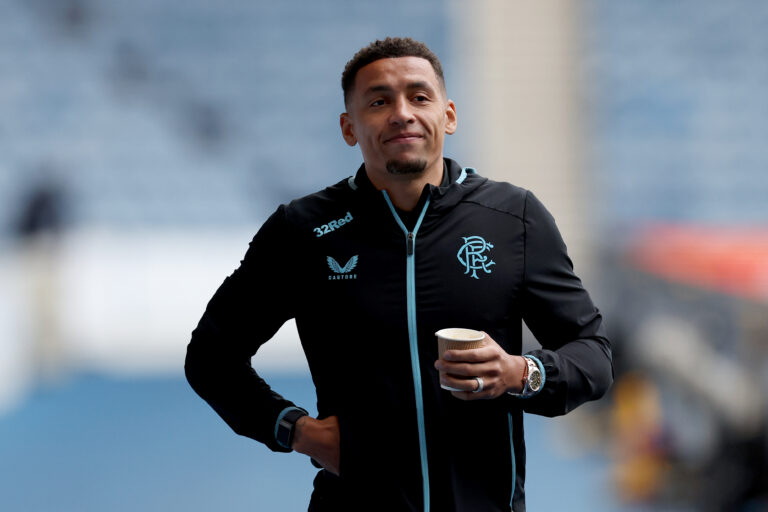 As promised earlier, Ibrox Noise now covers the right-hand side of Rangers' defence, the James Tavernier angle and that of Dujon Sterling, who is a 'heck of a player' according to manager Michael Beale, which is why he doesn't get a sniff over the captain…
Being serious, while Beale admits he has no preference at LB and he will manage and bounce between Ridvan and Borna, while playing lip service to Sterling the reality is Tavernier is absolutely hard-wired to that slot and the only reason Sterling is at Ibrox is to cover the unlikely chance the first choice gets injured.
Let's refresh what Beale said here:
This is just BS, in all honesty. James Tavernier has no competition – Rangers having Kyle Walker there would see the English international on the bench, and we all know it.
It doesn't matter who comes in, Tavernier remains first-pick and completely untouchable – so what chance does an ex-Coventry and Stoke lad who still hasn't found his place in football have against Tav?
While the captain's form of late has been adequate in that Rangers have not conceded a single goal in four matches, it doesn't change the reality that Beale knows Tav is number one and Cafu himself couldn't displace Rangers' RB.
Tavernier remains popular with a large chunk of Rangers fans, but he's not the untouchable among supporters that he once was, with many admitting he falls short in several ways, but for now as long as Michael Beale stands by his man and his captain, no one else is going to feature.
In fairness, Tav is getting on a bit, and isn't injury-immune, but his general lack of absences over 8 years is a pretty staggering return. Excluding friendlies, he's made 414 appearances in all competitions with Rangers, with only around 12 games missed through injury.
So we don't think that's going to change any time soon. Sterling just has to accept he isn't going to be first-pick at this club. And anything else from Michael Beale is just lip service to make him feel better.
Which we guess is part of management.