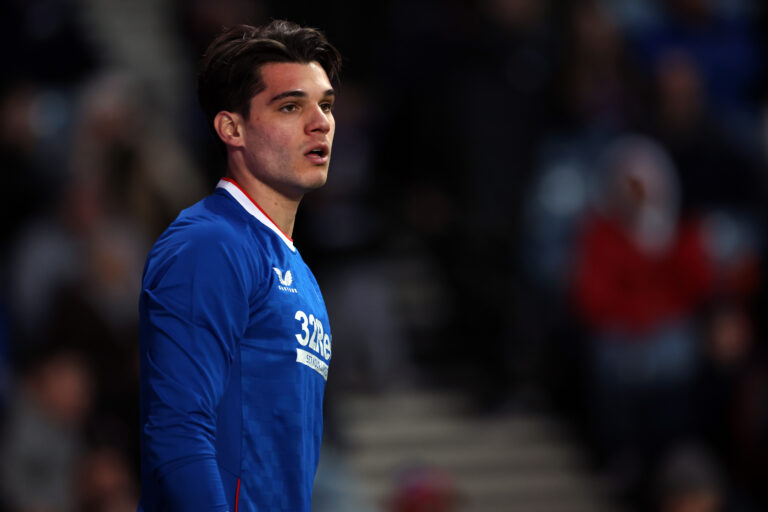 A lot of fans are very frustrated over the Ianis Hagi situation, with the Rangers playmaker still not starting matches and really only a bit part player under Michael Beale.
There are a few issues with this, and Ibrox Noise is going to have a little look at why Hagi is currently on the outside looking in, something the Romanian himself is 'disappointed' with.
The first big obvious part is the injury. Ianis Hagi's body is two years behind his brain now – he's slower, he's weaker, he's older, and while his brain remains razor sharp, his body isn't at the same pace. For anyone noticing him closely, the whirring in his head is clearly at the speed of the game but his body is not keeping up.
And this is what happens with long term injuries – the player loses the pace of the team, the cohesion, and ends up being very much like Steven Gerrard stalwart Jamie Murphy who, after that injury at Rugby Park, basically never played for Rangers again. Time passed him by, and it's done the same with Hagi.
Secondly, he is not a Beale player, he was a Steven Gerrard signing. Now, he was obviously part of the regime that brought the former Genk man to Ibrox, but Hagi doesn't actually fit Beale's profile at all. And why? Because it's hard to actually pinpoint Hagi's style now. He used to be like a 'lockpick' as Ibrox Noise once put it – not super-fast but able to carefully break through defences and find their weak spots. Todd Cantwell has that attribute now, but with a much more physical approach, more power, and quicker too.
Michael Beale then signed Kieran Dowell as Cantwell's depth, and wasn't looking at Hagi as his main man there at all. The boy was still recovering and Beale wasn't going to wait.
Next? Beale just doesn't like Hagi much, and we're not totally sure he likes Tom Lawrence all that much either:
Beale basically kept none of Gio's players or Gerrard's players, with just Tavernier, Barisic and Goldson surviving. He dumped almost the entire squad that previously played for these managers, and has replaced almost all of them.
The only ones whose Rangers futures are uncertain and are still at Ibrox are Ridvan, aforementioned Lawrence, Hagi, and Roofe, and none of these four have really broken through under this manager.
In short, Michael Beale really did just sign his own Rangers team. And that doesn't really seem to include the Romanian, for right or wrong.
Hagi has been fit for a long time, he just isn't a preferred choice. He couldn't even start v Morton for goodness' sake, just like Robby McCrorie, Lawrence or Roofe, ergo Beale signed his team, and he's darn well going to play it.
It just doesn't seem like Hagi is a part of that.