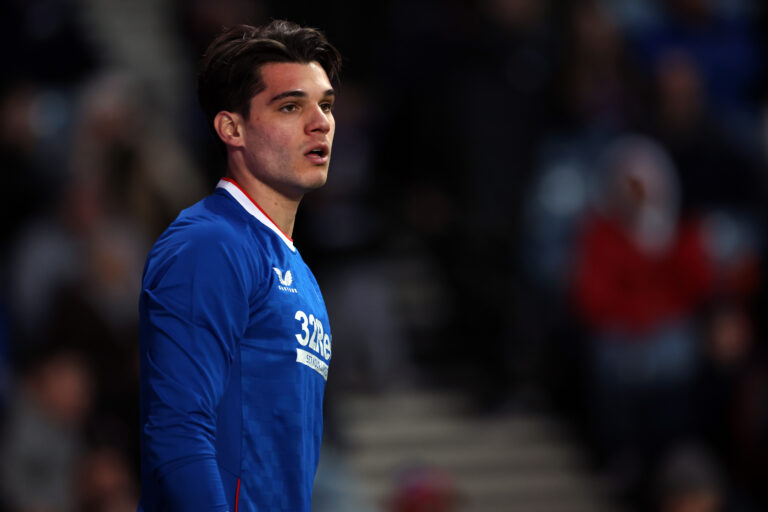 With his old man once again bumping his gums in the press, we do wonder what will happen now for Ianis Hagi now that Michael Beale has added Kieran Dowell to Rangers' already-impressive depth in the 10 slot.
Currently, fitness aside, Rangers have a ridiculous number of options for behind the striker, with Hagi, Dowell, star man Todd Cantwell, Alex Lowry and the recovering Tom Lawrence.
Scott Arfield is the only player to have been 'thinned' from this area, but the club has a wealth of options here and the reality is we can't keep them all.
Hagi senior clearly sees this too, and has offered yet more quotes to the press:
But the truth is Hagi is kind of surplus now – Cantwell and Dowell are Rangers' primary options for that area, with Tom Lawrence hopeful to play a big role too – Alex Lowry, we suspect, alongside the Romanian, is excess.
We don't need more than three playmakers, and Hagi is low on the pecking order.
We suspect if Rangers can receive any decent bid on the former Gent man, it'll be grabbed with both hands and he will move on; there are just too many players in that area and it needs thinned. Regardless of anyone agreeing or disagreeing with the exit of Arfield, he was another one filling that area and Beale is trying to trim it down.
There have been many links for Hagi, a lot of clubs were looking at him, but right now the stories have gone cold – unfortunately for the Romanian his return at Rangers didn't go terribly well. He looked considerably off the pace, which is not shocking given his absence, and is one who will benefit from a full and proper preseason.
The question is will it be for Rangers?