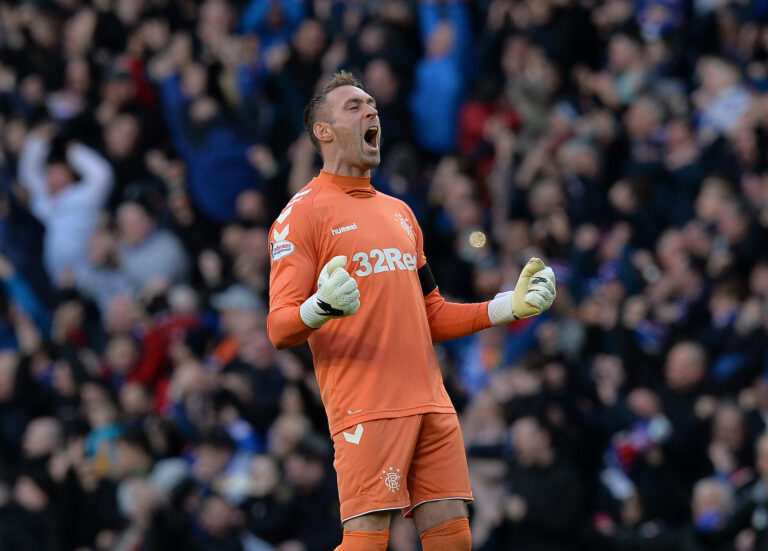 It's the end of a Rangers era tonight, as Allan McGregor, Filip Helander, Scott Arfield, Ryan Kent and Alfredo Morelos say goodbye formally to the fans as all five prepare for their Ibrox exits.
The quintet will play their final matches in Govan as the Famous host Hearts, and in this piece, we begin with McGregor, as Ibrox Noise pays tribute to all five departing men in a five-part series.
McGregor is, without any shadow of a doubt, among the best three goalkeepers in Rangers' history. Alongside Andy Goram, the two tussle it out for the top gong overall, with a major nod to Stefan Klos, who didn't quite match either of Rangers' Scottish titans between the sticks.
McGregor, like The Goalie before him, made absolutely ridiculous, impossible saves. He made quite a few stunners against Celtic, but the two he made in Europe live with us to this day.
One, in Bremen, where a goal was all the Germans needed to force extra time, and substitute Boubacar Sanogo battered a volley in from close range only to see Greegsy 'somehow' push it onto the bar in the most ridiculous point-blank save we think we've ever seen. That save got us to Manchester.
The second didn't mean quite as much, but our stopper had his own Gordon Banks moment, where a stunning header from Lukas Masopust for Slavia Prague was not only ridiculously saved by McGregor, but he held onto it as well. Prague's manager Jindřich Trpišovský suggested it was better than Banks', and in truth it probably was. It gave Rangers a chance in the second leg, which unfortunately we were unable to take.
Moments like these are beyond what most mortal goalies can do in their careers, even the world's best stoppers rarely get saves this good in their resume, which is why McGregor must go down as one of the great underrated goalies in world football.
He did play plenty of Premier League in his career with Hull, 52 outings indeed with the-then PL side before they eventually suffered relegation the following season, 70 goals conceded and 13 clean sheets which is very respectable for a side fighting off the drop.
Naturally he also spent time in Turkey's top flight as well with Besiktas, 5 clean sheets in 26, but while he should absolutely have won more caps for Scotland, the appearances for the NT sum up his career:
McGregor, probably, was held back a little by his slight lack of height, and while his coming for cross balls wasn't the best, when it comes to pure raw shot-stopping, he's one of the most underrated goalies to come out of Britain, and is easily among the very very best the home nations have offered.
But he was one of those players who simply saved the best for his club, for Rangers. It was with us he produced all his miracle moments, with his team that he found so many more gears.
That a McGregor not at his maximum was still excellent in the Premier League and Turkey shows what a stopper he was, but we got the full lot of him at Rangers. His season for 55 was probably the best goalkeeping all-round campaign any Gers goalie has ever had. He rightly won the fans' award for POTY.
In the end, time caught up and his departure from Govan probably came about a season or two late – but who wants to give up the shirt for their club when they love it as much as Greegsy does?
He will be remembered for the legend he is, rightly earning that Hall of Fame place, and while we may be biased, he is absolutely one of the top three Scottish goalies there ever was.
We will very much struggle to replace him, and we wish him the best in his new life after Rangers.
But then, legends never really leave us do they?