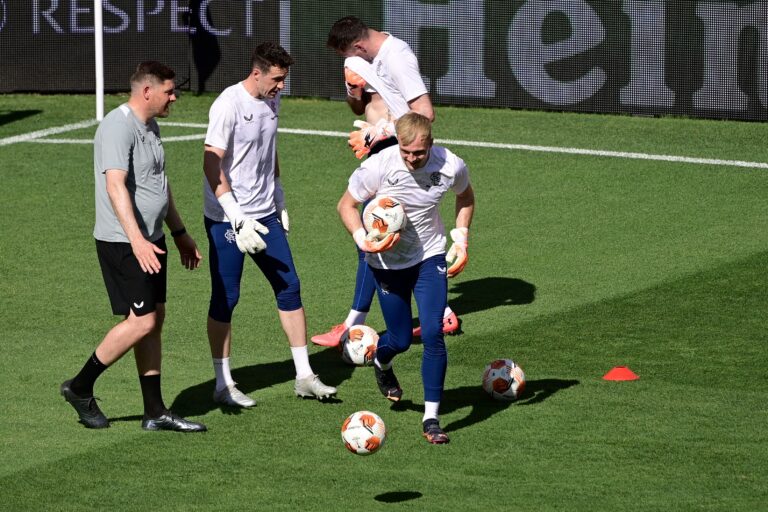 In a bizarre admission, Michael Beale has randomly confirmed Robby McCrorie is now fit, which we find suspiciously-timed just after the final meaningful match was just played.
The young goalkeeper has been mysteriously injured most of the season, and just when suddenly there is absolutely nothing whatsoever for Rangers to play for, he's randomly fit?
Michael Beale said:
Very odd – we can't help wondering if this 'injury' story was a bit of an exaggeration and the third choice goalie just wasn't being used for whatever reason.
After all, Beale was incredibly vocal about defending the useless Jon McLaughlin's honour and ability many months ago, until he eventually caved and ditched him to the bench permanently. We guess dumping him to third choice would be too much for the manager's ego to handle, so McCrorie was the victim.
And now that it's all kind of forgotten, McCrorie might finally get his chance to shine because the manager appears to have hinted the lad might actually play v Aberdeen in what is always a tough match for Rangers, especially off the back of so recently losing to Barry Robson's side.
McLaughlin has been wasting a space on the bench for far too long, and McCrorie has been wasted in training and awaiting his chance – this could be Beale's way of saying he wants to give McCrorie a chance because McGregor, clearly, is totally finished now, while McLaughlin isn't even fit for League Two.
We've said what we will say on that, but McCrorie 100% deserves his shot over these next five matches. Five match run to see how he gets on with the weight of the shirt given there's no real pressure now. Just the standard pressure of playing for Rangers.
Can McCrorie become a shock number one? We've been waiting for it, maybe it's finally his time to deliver, and he has a healthy number of matches to impress us.
We will need more goalies this summer, but McCrorie would be such a good start if he keeps up his previous two performances.