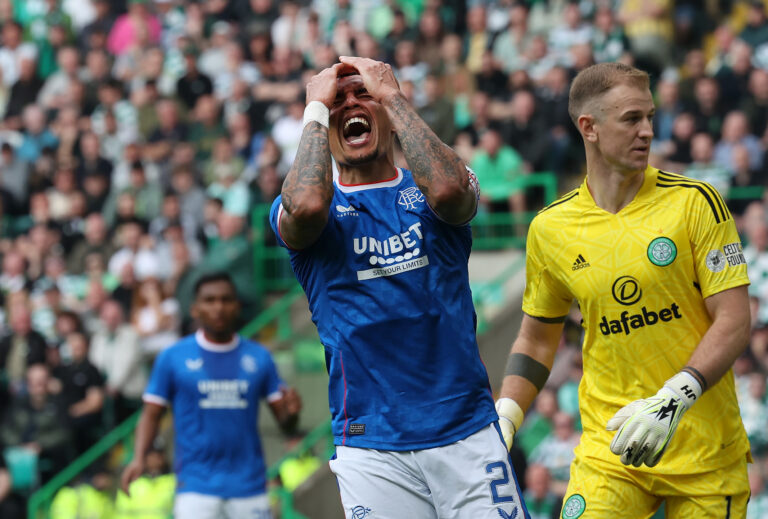 So the post-mortem begins on another bad Old Firm result, one which definitively loses the league once and for all.
12 points behind and we can't have a complaint really. Yes, there was a rotten VAR call, but it papered over the crack of Celtic already having the ball in the net themselves.
Rangers fell completely short today at Parkhead, not just in quality, but in mentality.
While our opponents were careless with the ball at times, they were infinitely more clinical. When Celtic made errors, Rangers didn't punish them. When Rangers made errors, Celtic capitalised.
The difference between winners and losers was out there in Glasgow's East End for all to see.
For all that we can whine about lack of our fans, or bad VAR calls, those didn't cause two horrendous defensive lapses, or a woeful lack of cutting edge at the other end.
That a defender was the only one able to score, and one of those being a set piece, shows how far we've gone back as a club since 55.
Forget Sevilla, we were a different animal in that European run; in the here and now we're miles behind Celtic domestically, both in points and in quality.
Too many Rangers fans put massive expectations on our players, expecting Goldson to be Gough, Tillman to be Laudrup – including, we admit it, ourselves at Ibrox Noise.
These modern players are considerably below the standard of yesteryear, they're where Tommy Burns' Celtic were – good players, some decent football, but up against a juggernaut in Rangers at the time, and couldn't match us.
It's the shoe on the other foot now. We had the momentum two years ago, but our board sought instead to sell buttons and badges, not to buy serious players to take it forward.
And now we're miles away the best of the rest, but deservedly and rightly miles behind Celtic.
We're now where they were in the 90s. We're the ones now looking at the summer window with optimism and determination, citing we 'must get better players', 'clear-out', 'overhaul', you name it – but when it comes about we sign someone Bayern Munich didn't want on loan, we bring in a guy not good enough for Sheffield, and we bring in a striker Salonika didn't want.
That's not going to beat Celtic, sorry, but it isn't.
We're sure there's tonnes of fans frothing at the mouth pointing at VAR this conspiracy that and blaming unseen forces for today's loss; do they blame the same ones for the last two Beale Old Firms?
Yeah, probably. They probably believe Morelos is the better striker than Kyogo, that Jack is better than McGregor – they never accept that we lost because they're better than us at the moment.
We've had a huge journey, but we completed it with 55 – and now we've blown it. All the momentum gathered in 2021 thrown away for profit on shirts rather than progress on the pitch.
We didn't hammer it home back then, and we did a Liverpool.
So no, we don't hold much court in Beale fixing this, we don't hold much court in getting in much better players this summer.
As things stand, we're second-best and could be for a very long time.