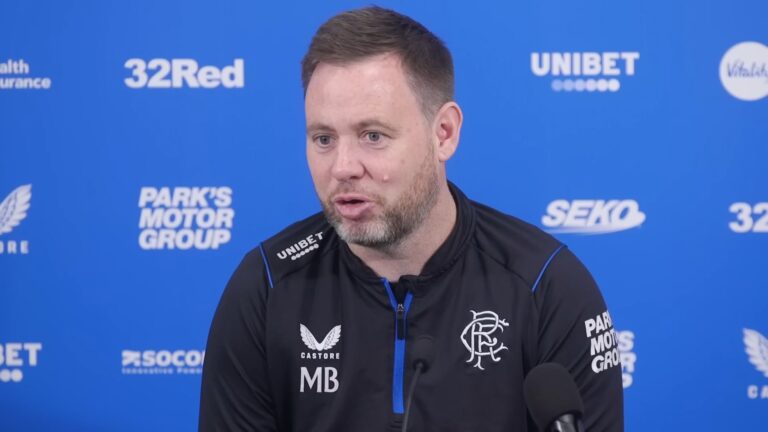 Rangers manager Michael Beale appears to have confirmed that ex-Director of Football Ross Wilson isn't going to be replaced… because he already has been.
The now chief at Nottingham Forest left Rangers at shock short notice, and part of the 'loss' was the perception that Rangers would now lack a negotiator for deals with future players, but Michael Beale has sought to reassure that not only was his exit not a massive loss or needing massive change, but that there is already 'someone else' dealing with the negotiations.
It just highlights, for us, the redundancy of a football director – it's a dumb position, creates a wage, creates an ego, and we can firmly blame ex-chairman Dave King for insisting on one being appointed.
While Mark Allen can be credited with Steven Gerrard, which was a massive cause of 55, his transfers were a lot less impressive with only a small portion actually working out. The same certainly applies to Wilson who became incredibly unpopular with fans by the end and wasn't exactly waved off with tears in eyes.
And Beale has now confirmed that the work stays the same with recruitment, and that he, while having an 'extra 10%' on his workload, pretty much still works on dealing with the players while the 'someone else' works with their agents.
Frankly that's the way it should be.
Whether you rate Beale or not, trust him or not, he SHOULD be the full manager who picks the majority of his players before signing them rather than comparing notes with someone else. And that's another admission he made – how much he enjoys recruitment, and signing players he's scouted.
That is an important thing for a manager, because he can't blame anyone else for a new signing not working out, and more importantly can feel immense satisfaction when a player he picked and recruited works out as well as the likes of Cantwell and Raskin have so far.
No, Beale's admission has to be correct this time, and that Wilson may already be rather forgotten thanks to other staff happily picking up the paperwork.
Let Beale concentrate on the football.