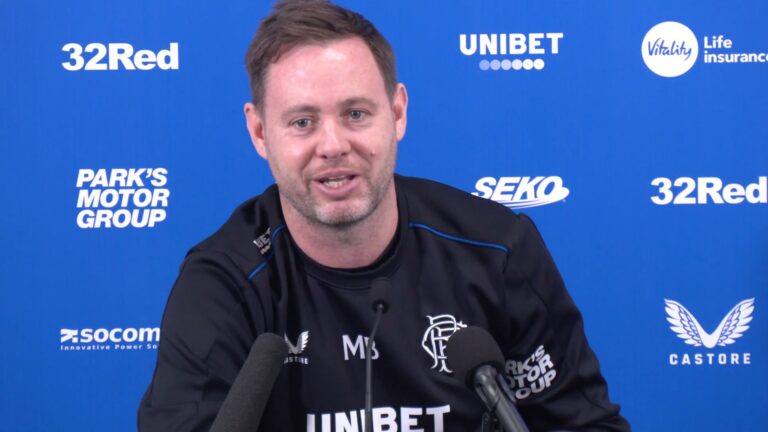 Michael Beale has 'confirmed' Allan McGregor and Alfredo Morelos will not be at Rangers next season after claiming everyone who started v St Mirren is in fact staying at the club, 'barring maybe Alfredo and Allan'.
In a bizarre prediction, Beale laid down a factual statement that all of James Tavernier, John Souttar, Ben Davis, Borna Barisic, John Lundstram, Nico Raskin, Todd Cantwell, Fashion Sakala and Malik Tillman (the starters) will remain at Ibrox next season, with particular emphasis on the prediction that Tillman will stay a Rangers player as well.
It is a very, VERY dangerous road for the manager to go down, to make this bold a claim about events next season, and he included Scott Arfield, Glen Kamara, Ianis Hagi, Leon King and Rabbi Matondo who came on as 'everyone who played' so he's making a big claim about 14 players remaining in Govan.
And has appeared to say McGregor and Morelos will leave, 'maybe'.
It's just yet more posturing by the manager, who throws so much rot into the press that we honestly give up trying to suss out the truth from the complete porkies, and he goes a lot more for the latter than the former.
I mean, that is ok, we don't mind if he talks manure to the media, at the end of the day as long as we win. That's his currency, and it's the currency for all football managers, to win football matches.
But now he's promising Rangers fans that we're signing Malik Tillman, that McGregor is leaving, that Morelos is too, and that Barisic and Kamara won't be sold.
Michael Beale is in no position to make these claims or promises, because that is to predict the future and no one not even Mystic Meg (RIP) can do that.
No, this is now stupid territory for Beale to be on, making promises he doesn't have the power to keep.
Is it any wonder we don't exactly trust the man or believe a 10th of what he says?
Anyone who takes his comments at face value is the type to trust a second-hand car salesman.