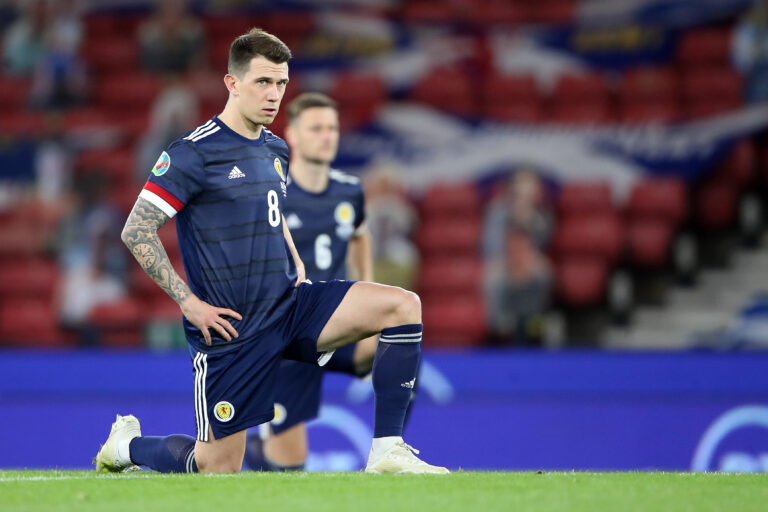 Despite our last piece decrying the lack of Rangers internationals (just three callups this break) the Scottish influence for all things Ibrox has actually taken a move in the right direction, not only with yet another cap for the mainstay that is Ryan Jack now in the national shirt, but a call-up for Lawrence Shankland who is obviously one of us.
The four times capped Hearts striker, over whom Ibrox Noise got a torrent of abuse from our audience for suggesting as a possible summer capture, has a goal to his credit in the national shirt, and we can see that becoming five v Spain and lots of opinions changing…
That said, it's not just about Shankland, it's about the whole squad. Looking at the current picture, it's more Rangers healthy than it's been for ages. Current, ex, or strongly-associated players are now significantly in the group:
Summer target Angus Gunn is current first pick, Liam Kelly is one of us and a former player, Nathan Patterson of course is very much one of our own, as is Lewis Ferguson, Billy Gilmour and naturally Jack, not to mention Kenny McLean.
And while there's Shankland up top, Lyndon Dykes is another who wanted in the past to come to Rangers but it didn't happen.
In short, 8 players with past, present, or future connections to Rangers. Celtic? Just five by comparison, and is there any coincidence Scotland won with ease v Cyprus.
Probably, but Jack is now a fulcrum of the national team, and to think he has Billy Gilmour and Lewis Ferguson for depth behind him, as national team mate Callum McGregor does, tells you things might actually not be so bad with SFA FC.
Sure, the coach is a bitter wee… and we cannot fathom another extension on his deal, but we'll be very interested in the result v Spain.
No, our focus is very much Rangers and it's never a bad thing to have a growing influence on the national team when it comes to Rangers players or those connected with our club in some way.
Ryan Jack is very much spearheading that.