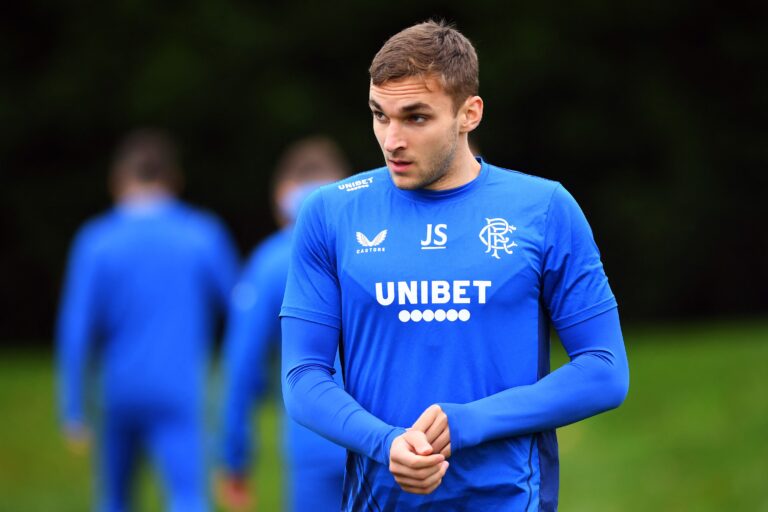 We've not really talked about James Sands in any depth, the American now officially gone back to New York to continue his career.
The loanee came to Rangers last January year, no one knowing a thing about him, and no one understanding pretty much why he was here.
It was a strange loan deal, and former manager Giovanni van Bronckhorst initially barely touched him, making most of us forget Sands was even here.
It was even curiously announced – Sands' journey from the airport to Auchenhowie was filmed, an 'up close and personal' touch as he and former Director of Communications David Graham got on with getting cosy at Rangers' training ground while some other players made a few cameos, particularly Scotty Arfield who gave Sands a big high five and yelled God Bless America.
We've not seen such an introduction before, or since – now we've not consumed all the material Rangers TV have to offer, but this 'behind the scenes' seemed pretty unique.
But on with the boy's time here. He was a vital component of the injury crisis – when all other players around him were falling like flies, Sands was always fit, always available, and helped to cover when there was no one else. He wasn't the best defender of all time, but he gave everything he had, and at times was downright good – he was awarded MOTM v Union Saint at Ibrox after a difficult first leg in Belgium.
And he was more than decent in midfield with the right players around him, a tidy player who did little wrong.
But unfortunately he was one fans just never liked, never took to. That's ok, you're allowed not to like certain players. We at Ibrox Noise are not shy to admit we dislike McLaughlin, Tillman, and one or two others, so we're not going to slaughter fellow supporters for not loving Sands.
But the criticism became abuse a lot, and he became easily the biggest scapegoat at the club, being blamed for everything during the injury crisis, then not being helped by being misused by Michael Beale as a pointless sub when he wasn't up to pace with a game. At least fans blamed the manager and not Sands for the Old Firm hijacking introduction of himself and one or two others at Ibrox in January.
But end of the day? Sands really wasn't liked – most fans wish him well now, and are glad to see the back of him.
He did his best, and yes, he did fall short a bit, but he served our club with honour and dignity, and can certainly hold his head higher than many.
If Malik Tillman had James Sands' heart and attitude, what a player he'd be.