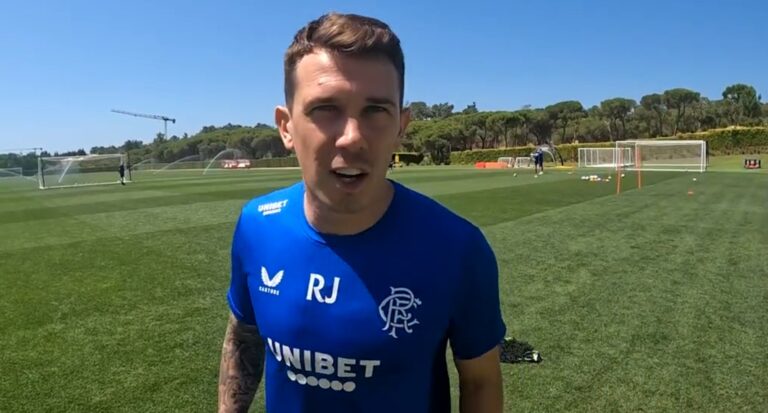 In a development that may surprise some but should surprise none, Ryan Jack has been linked with a move to Germany with a host of Bundesliga sides reportedly looking at him as a free agent.
And this is exactly what Scotty Arfield's agent did last year when his client wasn't sure if he'd get a new deal at Ibrox either.
Ryan Jack has been injured the bulk of his time with Rangers, as much as we love him, and he's admitted he's desperate for a new deal – so perfect time for his agent to concoct a story that a host of German sides are looking at him with a view to whisking him off to mainland Europe, just as Scotty was equally heavily linked with Turkey and a glut of Mediterranean sides looking at him.
Football Insider, our favourite, are the exclusive source for this story, and there's no question it's a load of piffle, and just Jack's agent working on getting him a deal at Rangers.
But… in the interest of reporting the story without the cynical eye, Jack is an asset player despite his injuries, and it's not a shock at all that any side would be interested in in such a lucrative free agent, and this report claims top flight German sides are among those taking a look at Jack as a summer addition.
Jack has certainly lost his place at Ibrox – he's down the pecking order now, with Raskin and Lundstram first choice selections, so he may realise that despite his love for the club and the fans' fondness for him, that to keep on playing he requires a change of scenery.
Whether that is Germany's lavish top flight or anywhere else, if Jack was to move on, few departing players would exit with the good wishes and goodwill Jack has earned and would receive, but getting our feet back on the ground, we do believe this is agent noise.
Just like Kenny McLean's agent used Rangers to get him a new deal at Carrow Road, Jack's agent is using the Bundesliga to get him one at Ibrox.
Do we hope it works? Jack will never be properly fit at Ibrox, not the player he used to be, and maybe he does need a change of workplace to get things fully moving again for himself.
So we're not sure how vital the boy is any more to the Rangers picture, but what's for sure is he'll do his best to remain part of it.