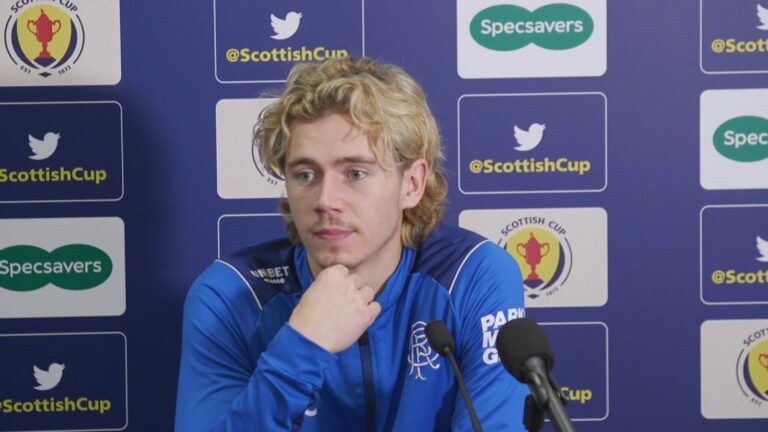 Rangers fans are today blown away by Todd Cantwell, not only for his performances on the pitch, but by his conduct in press conferences.
The 24-year-old, soon to have his birthday, was speaking pre-Partick Thistle this weekend and fans took to social media to express their praise at how articulate he speaks, how mature he seems, and how intelligently he expresses himself.
In short, Todd Cantwell is endearing himself hugely to supporters, because not only has he spoken a top game from the beginning, but he's been playing one too.
His performances so far have been absolutely the best debut we've seen from a new Rangers signing in many years, reminding us of the very best of the liquid smooth Carlos Cuellar who immediately screamed of absolute class and looked streets ahead of all his team mates.
Cantwell is very much of that ilk, and his dialogue with the press is extremely intelligent and a cut above what we usually expect from footballers.
Most players don't sound like Einstein, nor would we expect them to, but Cantwell definitely seems a clever lad, streetwise, and he's absolutely backing up that talk with his performances, which are excellent so far.
The best part is he's not up to speed so far, despite shining as our finest player the last few appearances, and knows it himself, with a lot of work to fully connect with team mates and get on their wavelengths.
But end of the day, the guy is doing it for the club on and off the pitch, and is absolutely delighted with life at Ibrox and the decision he made.
Cantwell is absolutely Norwich's loss and Rangers' gain, and there's every chance Rangers will have a player worth well beyond the £2M we paid to Carrow Road for his signature – market value 18 months ago of £20M, currently around £10M, he could easily get more than any of this if he continues to build on his bright start to life at Ibrox.
Top stuff from a top player, and we wonder how long before everyone can see how good the guy actually is.