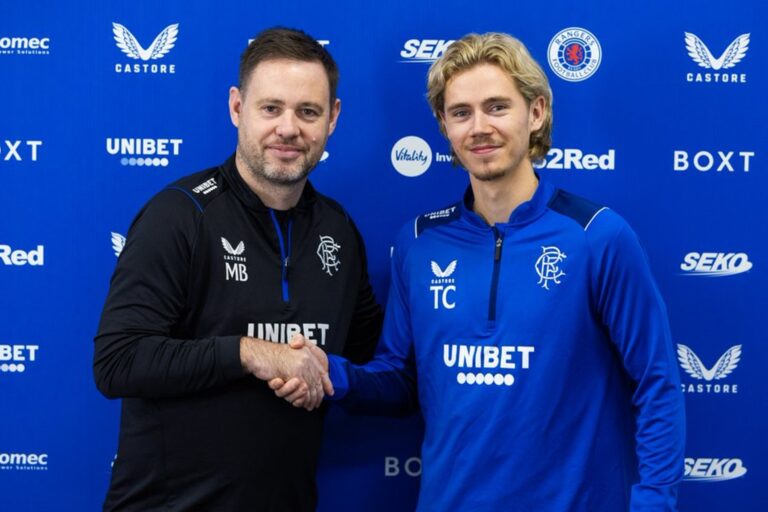 The first thing to note about the signing of Todd Cantwell is the abject difference between this window and the previous winter incarnation.
Todd Cantwell, 100%, is a Michael Beale signing, a player he knows, wanted, and admires. Giovanni van Bronckhorst cannot exactly say he wanted a random Pole, an MLS boy, a Man Utd failure or broken and past-it Aaron Ramsey last January.
Regardless of what Gio and Director of Football Ross Wilson say, there is no question the ex-boss was NOT supported properly in any of the windows, and the signings did not reflect what he wanted from his Rangers team. No one is going to tell us Giovanni truly wanted Rabbi Matondo. Wilson claimed Gio did have the final say, but unfortunately GVB will never 'clear the air' on the truths of his time at Ibrox because he's simply not that kind of man. He won't air dirty linen.
But what we can say with 100% certainty is that Beale DID want Todd Cantwell, publicly praised him and admitted, indirectly, he wanted him, and the new recruit is a manager pick.
We're not attacking Gio, or Wilson, it's just the way the previous regime went – but we can feel a lot more reassured that Beale is getting players he directly wants, just like he's admitted he wants Raskin and Whittaker too. In truth, it's not really the way managers are supposed to do business, Beale has done away with the script and is quite happy to 'talk about another team's player' when he wants him.
And even when he doesn't.
As for Cantwell, this is definitely not a signing to sit on the bench, Cantwell will be a starter when fit, and Beale is going to build Rangers around talent like him.
To quote the lad:
In short, he wants to fulfil his potential and kick on – he's stagnated the past 24 months, and hasn't been true to himself. Norwich saw glimpses, and many fans viewed him as a £30M player who didn't develop at their club.
Most of them wish him well, and there's no denying that Cantwell has the tools to be an outstanding player for Rangers, a truly top player, and we will see if Michael Beale can get that out from him.
Talk is cheap, but Cantwell appears determined to make a go of his career – he'll never play for a bigger club than Rangers, and he's going to do all he can to make it work.
Welcome to Rangers Todd Cantwell.