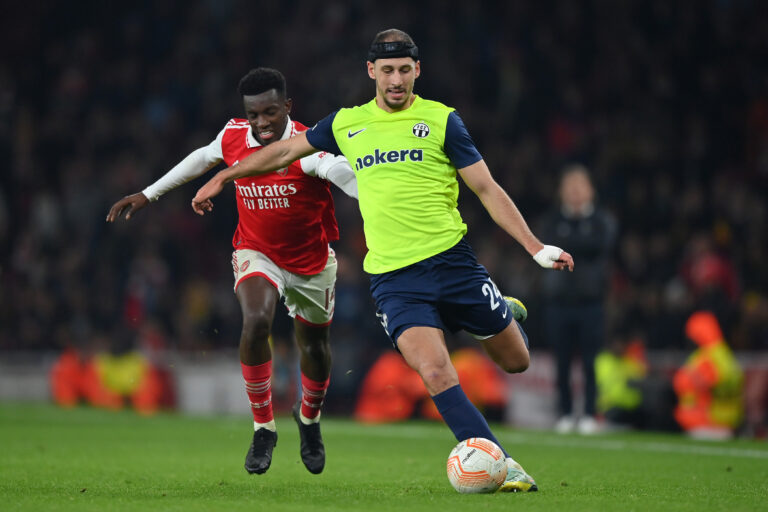 Rangers fans have reacted in disgust this morning after former defender Niko Katic's Swiss career with FC Zurich went from strength to strength with another superb showing, this time against Mikel Arteta's bang in form Arsenal side at the Emirates.
The big Croat, a firm fan favourite who confirmed Giovanni van Bronckhorst was absolutely 100% not interested in him and refused to even communicate with him (something the manager just about admitted to be true), was told to find another club and did so in the neutral capital of the world.
And last night's display for his new side, after our recent analysis of his subtle impact on Zurich so far, only cemented fan regret over a dire decision which may have had far-reaching consequences.
3 tackles, one interception and 7 clearances with a rating of Zurich's MOTM and a passing level of 82% meant the former Ger is not only thriving at his new club, but highlighting the utterly appalling decision to let him go.
Indeed, two wins of the last four with Katic in tow show the gradual change in fortunes the Swiss club are having since signing him, while Rangers are down to zero reliable defenders as a result of his and Leon Balogun's exits.
It just beggars belief to watch these players thrive for their new clubs while Rangers struggle with a non-functioning defence, these decisions having been wilful to let them go, with both Balogun and Katic absolutely desperate to stay at Rangers.
No, another superb showing from the Croat for his new employers comes a little bit too late for him to get a world cup call up, but next year don't be surprised if Zlatko Dalic starts to notice Katic along with some bigger clubs in Europe.
Indeed, in late 2019 we recall describing Katic as a £10M defender and a potential future Virgil van Dijk due to his physical similarities and, back then, stupendous form. No doubt Zurich's gain is very, very much our loss and one we more than smart from.
All because Gio didn't like him.
Then again, neither did Gerrard.
Marvellous.