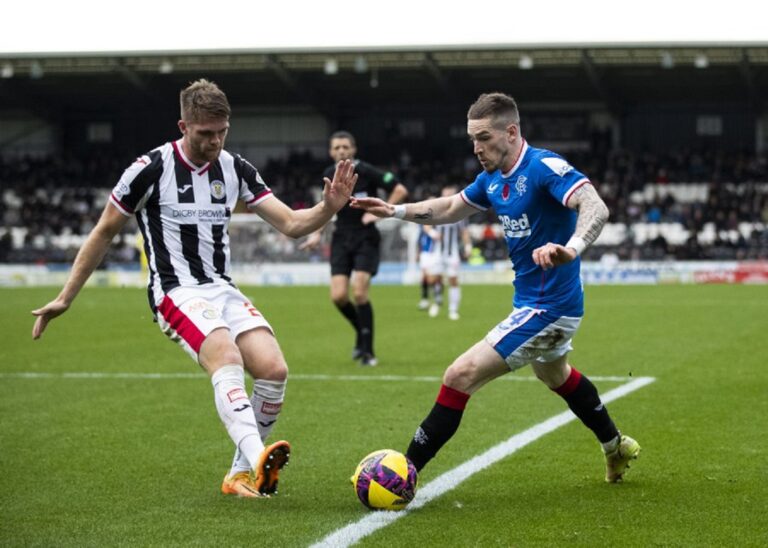 Rangers dropped yet another pile of points today as St Mirren battled their way to a well-earned draw. Ibrox Noise presents our ratings for the day the title probably slipped away beyond reach.
McGregor:
In truth, this was actually a decent performance from him, better than he's been. One of the few who looked like he cared, found himself screaming at the defence several times, and got so impatient with their pondering he nicked the ball from one of them at one point and shoved it forward. He's still got desire alright and even made a couple of saves in there, including one which deserved more. 7
Tavernier:
Tav needs a break. He still gets TONNES of the ball (more than anyone else) but he's exhausted. Made 9 crossing attempts, nailing just one, but he stepped up for the penalty as always and clinically dispatched. He also made a few good defensive interventions. 6
King:
This was the day his 'unreadiness' was deeply exposed. His error at the goal wasn't just a mistake, it was a fundamental loss of awareness and control, attempting to take a touch in such a critical place. He was also found wanting several times well before his horrible injury ended his misery. 3
Sands:
Honestly didn't do a lot wrong, but as per usual no understanding with King. Then even less with Jack. Managed a fair few defensive contributions but he's much better used in midfield. 5
Barisic:
Actually not woeful, no one did more in defence than he did, and he tried to cross a tonne of times, getting a few in dangerous areas. Our best defender on the day. 6
Kamara:
Anonymous, just 28 touches before hauled. His heart is well and truly gone and we don't know why he started. Some of the worst passing of his career at just 73%. Hauled off at HT. 2
Lundstram:
Did his best, but like Tav he's playing clearly below his capabilities – offered nothing defensively but passing wise barely made a single stray one. Tidy, but doesn't seem to like Kamara much more than Davis. 5
Kent:
Fans want to hate Kent but that's two in a row where he's been by a distance the best player in the shirt. Full of running, invention, and trickery, Kent not only won the penalty but tried for five crosses, albeit no takers. Was notable for tracking back and defending as well. Looks like he's actually starting get some of his old form back. 9
Wright:
The contrast in quality between he and Kent was obvious, but Wright did give it what he had, and one of his runs was excellent and deserved the finish. Wright was bright. 7
Morelos:
Oh dear oh dear oh dear. Once again his finishing was wild and completely missing any composure – doesn't look like any brain is engaging while he swings his boot. Looked dejected and disinterested, and compounded it with a stupid push to earn himself a booking. 2
Subs:
Arfield:
Can't play beside Lunny, stupid substitution to replace Kamara with this guy. He should have gone further up. 3
Jack:
Thanks to the chaos, had no choice but to fill in at CB, but you know what, he did not bad and even got a bit forward to help midfield. Could have won it but his header was well off the Gary McSwegan moment he was clearly dreaming of. 6
Ure:
No real time to make impact.
Manager:
Why Gio started with Kamara no one really knows, but the match was generally a mess even if some of his players actually did show up a bit. The sub of Arfield for the Finn was misguided, and his prematch talk of Ben Davies showed he is starting to seem completely lost. He wasn't at his best in this one, and frankly hasn't been for a long time. 4