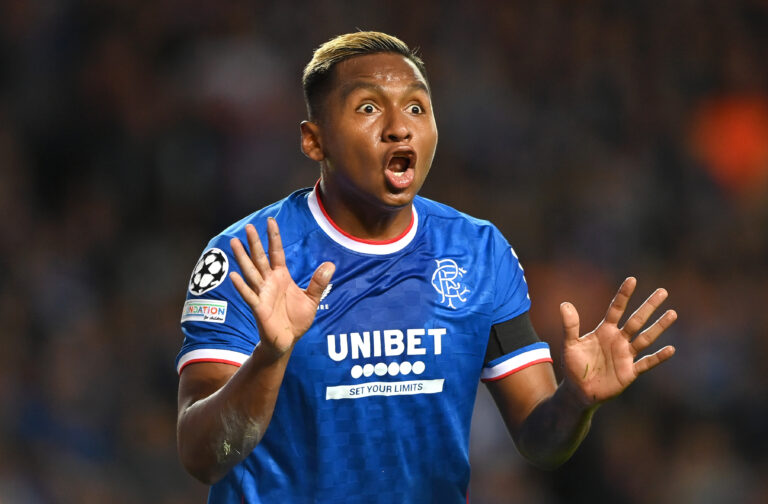 So there have been some quarters claiming Alfredo Morelos has 'proven' himself incapable at Champions League level following a disastrous night in Naples.
And we'd have to completely agree with them, sadly.
We used to be massive fans of Morelos on this site, at one point trying to justify why he was worth £120M. Ok, he wasn't, but our argument was set a high bar, and stop pawning off our assets for pennies when they're in form. That way you end up getting the ~£30M you want after bartering.
But these days?
That miss last night wasn't his first from that range, because we all remember him hitting the post from a metre out at Ibrox v Celtic. We do not trust Morelos' finishing, and his career is littered with these incidents, some more glaring than others.
Colak had only one half chance last night, and came close to burying it – he too has fallen a bit short in the UCL, but he's come closer to being 'justified' than Morelos, who clearly hasn't made the step up to the UCL in the way he'd have personally hoped, despite having clear chances to do so.
He's had three starts, and looked a rabbit in headlights in all of them – he just hasn't been up to the level needed, and maybe we're seeing why Colombia coaches all seem to disregard Morelos. It has nothing to do with the league he plays in, plenty of Coffee Men players are in less than lavish domestic competitions. It has everything to do with his not being a big-time player.
You'll all point to his UEL return, which is impressive. But sadly, UEL is not the big time. Morelos has just two goals v Celtic, in 18 attempts. 18. It took him even then three to four years to actually find the net at that level. He has just one goal in 11 for Colombia.
Indeed, the harsh reality for him is the SPL, the UEL, and Finland are the only levels he's ever done it at, and these are not worth shouting about.
Now, we know he's scored against some very good sides in the UEL – Dortmund, Benfica, Porto and Feyenoord, but at the end of the day, it's the UEL, and the standard there is just patently lower, even if you're playing a side who is typical UCL.
For heaven's sake, we got to the final of UEL and we've completely drowned in UCL. And after a good win v Marseille, Frankfurt, our opponents also began to struggle – they've now put themselves in serious contention and have evolved as the competition went on. Something Rangers failed to.
We're not saying Morelos is rank rotten, he's done a lot for our club and broken records, but he's far from proven himself at the upper levels – UCL is the one players and teams are judged on, as is international, and at those levels he's fallen extremely short.
Maybe he needs a better league in order to evolve into a better player, who knows. But one thing is for clear – Colak is much the better striker at Ibrox.