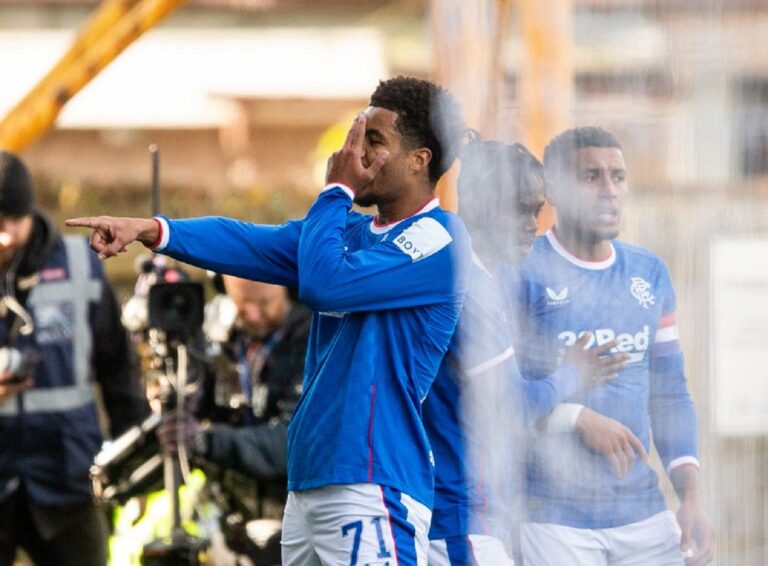 Rangers laboured to a frankly dreadful win at hapless Motherwell, with one of the worst performances of the season from Giovanni van Bronckhorst's depleted and beleaguered side.
Here are Ibrox Noise's ratings on a forgettable win, if there's such a thing.
McGregor:
Absolutely dreadful – after the initial impact of his return and a fine performance at Liverpool, aside that McGregor has been completely appalling and every inch as bad as McLaughlin. Rangers need to promote McCrorie into goal now or continue leaking left right and centre. 100% at fault for the goal today. 3
Tavernier:
His form is far from good – repeatedly exposed on the right with Leon King repeatedly having to cover his absences, and while he assisted Tillman, it's barely one given the USA international did everything else himself. Commands zero respect as captain. Is it fair to say that? 4
King:
He did OKAY but no more – zero understanding with any of the players around him, but with an 18 year old barely promoted from the Academy, we'd expect little more. Was repeatedly out of position trying to cover for Tav and doesn't have the experience to read the match better like Goldson did. 5
Davies:
Actually not bad – no understanding with King yet but comfortable on the ball and we are starting to feel like he's asserting himself. Our best defender on the day and gaining trust. 6
Barisic:
Boy, if this lad was going any further backwards he'd be in goal. Did assist what turned out to be the winner and got forward a bit more than usual, but far too often he's soft, negative, and lacking any conviction. 5
Lundstram:
Really bad on the ball today, trying to forge a new partnership with Scott Arfield which didn't work at all, gave it away too much. Completely messy goal but he'll take it, but defensively he gave more than anyone else in the middle. Was then ruined even more when Gio hijacked things by adding Davo to the mix. 6
Arfield:
Didn't really work as a centre mid, hardly got on the ball, didn't add anything defensively and managed few passes. This position was just not good for him, but that's on Gio. 4
Kent:
God awful. Boy he is absolutely rank at the moment, losing the ball all over, managing few decent attacking transitions and just looks like he's somewhere else. Staggeringly had by far the best passing at 90% but all of them were back to Barisic or inside to Lundstram. 3
Matondo:
He tried, he did, and he managed one or two good dribbles but was mostly starved of service. No one passes to him half the time, it's like they don't trust him. 4
Tillman:
Slim pickings but he was the clear MOTM. Only one who turned up, tried, ran, worked, and scored an absolutely stunning goal. His passing was poor but he was the single creative spark for the side. 7
Colak:
Oh dear. Starved of any service a bit like Matondo, the Croatian needs something to feed on. Give him little he comes deeper and makes a mess of things. Had a truly shocking 27% passing. 0
Subs:
Wright:
Desperate for him because once he was on, we were mostly defending. Wasn't able to attack and had to do more at the rear than he's supposed to. 4
Davis:
He's absolutely 100% finished and Gio tried to hijack a bad afternoon by bringing him on to pair with Lunny. 2
Morelos:
This was a ridiculous sub. He got 3 touches and made a single pass. This wasn't the day to just swap strikers. 0
Manager:
Gio is deeply struggling, but today, it was like he was deliberately trying to make things worse for himself. They say the Dutch never admit when they're wrong and won't change things, well it will cost Gio his job at this rate. Sticking with far too many underperformers and making the same predictable and non-functioning subs. We won by pure luck. It looks to us like he's lost interest and wants out. Gets 5 simply because we won. But trust us, it was 0 had we not.