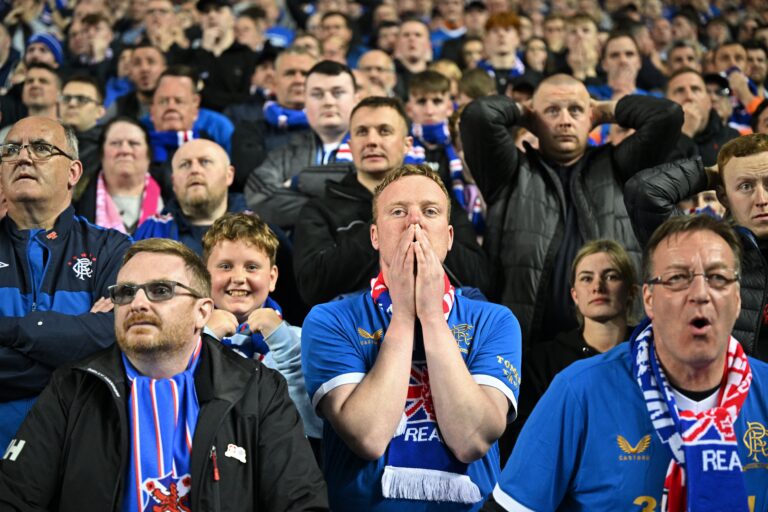 We've been asked by a few to give our tuppence on the SPFL cinch Rangers board latest fiasco which embarrasses the club, with the board demanding an apology over cinch and compensation otherwise we won't vote regarding the Sky deal.
Then you have Dave King picking pre-the Old Firm shambles to pipe up slaughtering everything from the board to the transfer window to the manager.
We can't completely disagree with all of the criticism aimed at the suits – we were the first to oppose Douglas Park's behaviour over the cinch deal in the first place (despite most supporters slaughtering us at the time), and we certainly have our issues with some of the things the board has done.
In fact, it's safe to say, since March 2021 and the securing of 55, they have run Rangers very, very poorly indeed, showing a real inexperience at this level with a lot of bad decisions, epitomised by the absolutely pathetic unveiling of the flag for 55, which was less than a damp squib of an occasion.
So by no means are we on board with the board unquestioningly.
But Dave King has a cheek too. We are far from his biggest admirer, although we know the majority of the fanbase would back and defend him even if he said 'up the ra' and drenched himself in Magners. He's untouchable to many because it's believed he saved the club, hence they take his word for gospel.
And they have every right to, but we've never been on board with him either. Definitely had more time for Paul Murray and John Gilligan, neither of whom mouth off anti-Rangers stuff in the press like King does. And they saved our club every bit as much as he did. Even if Murray didn't exactly put a lot of cash in.
And let's not forget King went initially to the Rangers-hating DR with his mouthings off (even his biggest fans did question that), and it wasn't till he was told that was a bad idea that he changed tact and went to the Times' Chris Jack instead. Which, these days, isn't a whole heck of a lot better.
End of the day, the stuff off the pitch has become loud – very loud.
There are too many little annoyances simmering in the background and it's beginning to detract from the work on the pitch.
Rangers' board is making a hash of too many things, getting involved too much with spats with as many groups as they can, and frankly seem to cooperate with no one.
It's true that our motto is no one likes us we don't care, but in the business world, you have to have relationships even with the enemies, because end of the day, money is money.
And Rangers appear to be strangling every relationship possible.