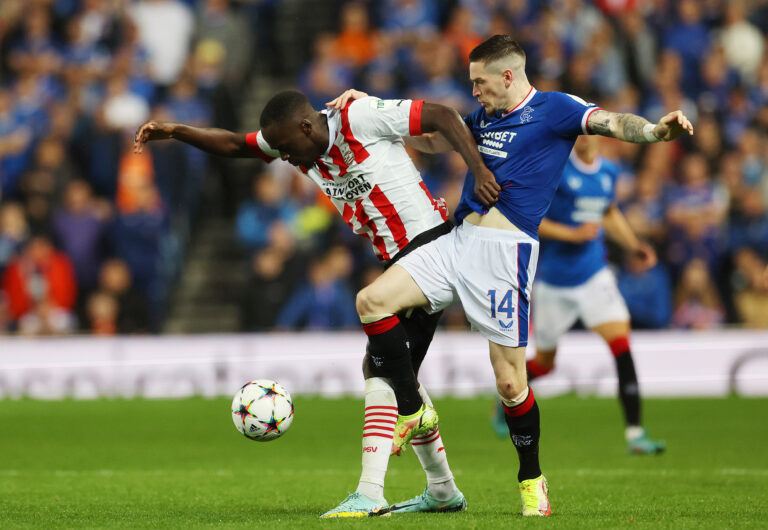 If there's been one player who in recent times hasn't quite been as sharp as he's capable it's Ryan Kent.
Regulars will know we're big fans of the English winger, but his stunning display twice against Dortmund does feel like a long time ago now, and it's safe to say he's not come close to those heights since, including in Europe.
Whether it's contract distractions or on/off injury which we do know have blighted him for quite some time, his ineffectual performance last night highlighted the current slump the winger appears to be suffering.
Now, there was a caveat – Jordan Teze quite simply had the total measure of him last night and he couldn't get past the giant Dutchman, who also had the pace to keep him quiet as well as the strength to bat him off.
Kent got no change from this guy.
And PSV did also double up on him as well, sometimes putting a few men on him which also rendered him fairly useless.
But there's his own form too.
We like Kent a lot, but he hasn't shone for quite a while, looking a lot more jaded the past 6 months than we can ever remember.
His exalted form of 55 seems a long time ago, and like we say, so does even Dortmund.
Which is far from saying we're turning on Kenty, we still rate him massively and consider him one of our best players. But he's definitely not in his most sparkling form and Rangers have a lot of options to replace him if need be.
It might be after all.