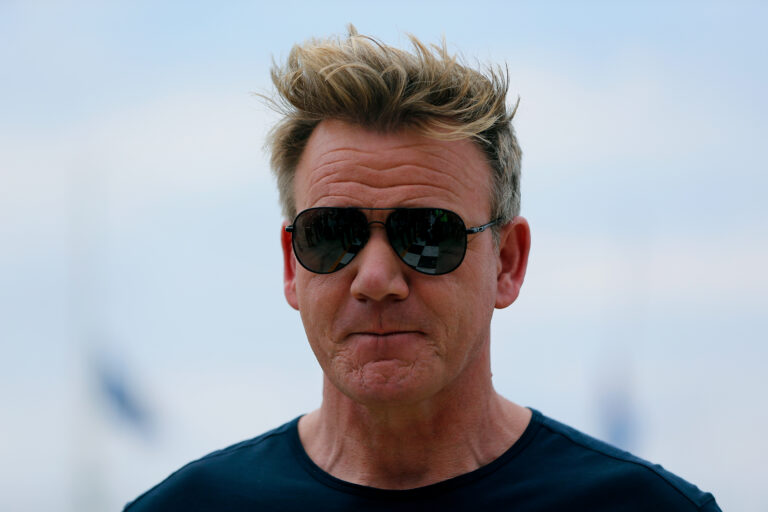 Rangers Football Club are a Scottish professional football club based in Glasgow. They play in the Scottish Premiership and have an army of fans across the country and the world. With millions of die-hard fans, inevitably, many notable figures call themselves a Rangers fan.
Nicknamed The Gers, The Light Blues, and The Teddy Bears, here are some of the famous faces that you could be mingling with at your next Rangers match.
Gordon Ramsay
Arguably the most famous chef in the world, Gordon Ramsay is well known to be a Rangers fan. The foul-mouthed chef actually put on a Light Blues shirt when he was younger. What's more, Ramsay was born in Johnstone, Renfrewshire, making him a proud Scotsman. The chef even had a trial with Rangers when he was 15. In his autobiography, Ramsay stated that he'd played a number of non-league matches as a trialist for Rangers. You're unlikely to see the star at Ibrox again soon as he's always jet-setting across the world for his Kitchen Nightmares show. But, it's nice to know Gordon has Rangers blood in his veins and his recent visit was well-appreciated.
Chris Evans
Most known for his DJing, radio and television work, Chris Evans is another Rangers fan who you may not know about. Evans fell in love with the team thanks to his close pal Paul Gascoigne in the mid-90s. In fact, the pair were known for going on boozy benders after Rangers matches, and often found themselves as front page tabloid fodder! Chris Evans is another one who may not be at the match so much in 2022. However, we can claim the star as a Rangers fanatic!
Lulu
Lulu is a Scottish singer, actress and television personality. Over the years, the star has racked up a huge selection of hits, and when she's not gracing the stage and belting out a number, you may just find her cheering on Rangers. In fact, just last year Lulu found herself a hit with the fans. During a game show appearance on Michael McIntyre's 'The Wheel', the star appeared to make a reference to the Ibrox side. Lulu loudly shouted 'we are the people!' which is obviously a famous Rangers chant that the fans roar during matches. Although we haven't necessarily seen Lulu sporting a Rangers shirt in public, we can confidently guess she's a Rangers supporter.
Amy Macdonald
Scottish rock/folk singer Amy Macdonald is another superstar who follows Rangers. Most known for her hits like Mr Rock & Roll, This Is the Life, and L.A, Macdonald has shown her love for the team over the years. How could she not be when you consider her husband Richard Foster once played for Rangers. In 2007, the singer revealed she would be happy to swap her personal pop glory for her favourite Teddy Bears. Macdonald chose Rangers to sit in the pole position in the SPL over her new album getting to the top of the charts! We're confident this megastar frequents the Ibrox, so don't be startled if you bump into her at their next game! If you share the same football passion as Amy Macdonald, why not have a go at playing some football-themed online casino games during your downtime? OnlineCasinos compare a selection of providers to help you find the right platform for your gambling needs.
Mike Tyson
Snoop Dog may call himself a Celtic fan, but it's Rangers who have got one of the best celebrities in their corner. Mike Tyson is that person! Tyson was snapped wearing a Light Blues top when leaving Peterborough's Smackdown gym back in 2010. While this should serve as clear-cut evidence of where his loyalty lies, Tyson has never actually confirmed his backing for Rangers. It may be that he liked the look of the shirt, but we like to think this champion fighter is a fan of The Teddy Bears.
Hugh Grant
There's no doubt about Hugh Grant being a Rangers fan. While his first love is for Fulham, Rangers is his favourite Scottish team. The story goes that the Love Actually star inherited his passion for the Ibrox club from his father who was an officer in the Seaforth Highlanders. Back in 2008, Grant was believed to be desperate to snatch a ticket for the EUFA final in Manchester. One of his friends said that Hugh tried everything he could to be at the game. While he sadly wasn't able to be at this momentous event, we hope to see him at a match in the near future!
Tina Turner
If you've ever been to the Ibrox, especially in the 90s, you couldn't escape the sound of Tina Turner. Her huge hit 'Simply the Best' was an anthem at Ibrox that played as the Rangers players headed onto the pitch. The song was also played on the team coach before an away game. It's still a fan's favourite nowadays. In fact, Steven Gerrard was filmed singing along to the hit in a pub as he partied after Ranger's 2021 league title win in a pub with pals. Turner has played Scotland numerous times over the years. However, her last gig in Glasgow was back in July 2000 at Hampden Park. We like to believe that Tina Turner is an avid Rangers supporter too!
Her Majesty the Queen
Last but certainly not least, it's time to talk about Royalty Rangers fans! There are plenty of pictures of Queen Elizabeth II at Rangers supporters clubs up and down the country. However, in 2009, it was confirmed there was a photo of The Teddy Bears at non other than Buckingham Palace! Former Glasgow Labour MP Ian Davidson found the squad photo during a visit to the prestige residence. While Her Majesty the Queen hasn't said she's a Rangers fan in so many words, the proof is more in what we can see, rather than hear.
As mentioned, there are a wide selection of global superstars who call themselves avid Rangers fans. From the likes of culinary wizards like Gordon Ramsay to even royalty like The Queen, the next time you're at the Ibrox Stadium cheering the team on, you may just spot a few familiar faces amongst the crowd!