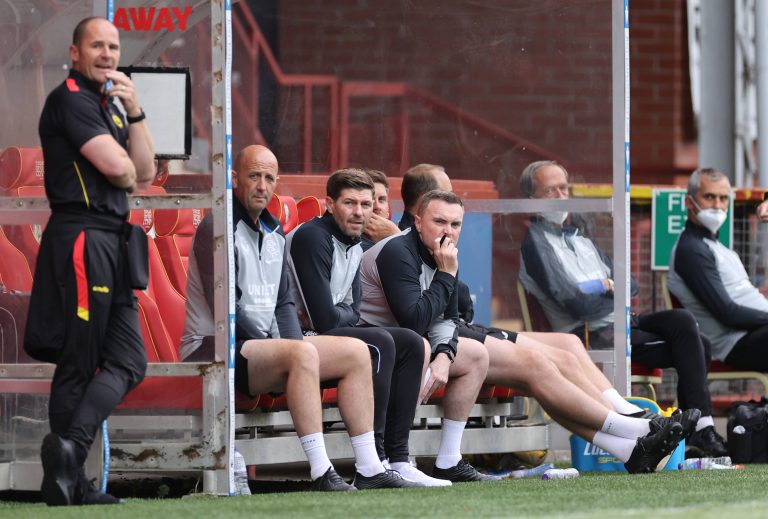 In the build up to Rangers' trip across the city to Firhill, Steven Gerrard expressed disdain for the players 'out of shape' who had had excess on their break and hadn't kept up the fitness work given them by Jordan Milsom.
He explained those players would not feature last night, and naturally, there was much chatter about who they were.
Now we know.
Ryan Kent could be one of them – it was put down as a 'niggle' hence him not being part of the group, but it's seemingly as much a niggle with his physical state (allegedly) as anything else it seems as he does his own fitness work inside Auchenhowie. He wasn't involved last night.
Ryan Jack is a bit less clear – we know he's recovering from surgery, and while he spoke positively in a recent press release by the club, the lack of his presence at training and last night is hardly reassuring. We don't know if he's just out of shape or still outright recovering from his surgery.
Scott Arfield also hasn't been seen much at training – yes, he's there but he's not in the main group and he too was known to have had some injury issues late last season. Whether he just indulged in a few too many Pina coladas we'll never know, but he was another awol last night.
Allan McGregor has been visible at training but may have earned himself a bit of a slower return and a good break! Seems like he might be a little behind but that's forgivable after the season he had.
Niko Katic is close to full fitness – few have been on the fitness trail like he has the past 12 months, and now he's recovered. We don't know if he indulged a bit too much on his time off or if he's still getting the running under his legs but he's been part of the group in training. But wasn't there last night.
Brandon Barker – no place for the winger who is at Auchenhowie. Wasn't in the group last night. Probably has no future anyway.
We cannot conclude for sure who of the above is simply niggling with injuries/recoveries and who had too many beers on their break, but we know from their absences last night that one or two of these definitely were among Stevie's naughty list.