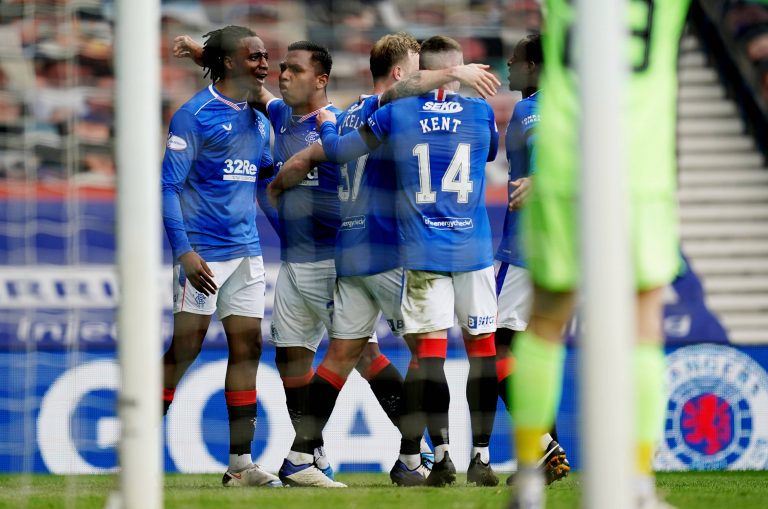 Back on the football, yesterday's Old Firm win was as comfortable as it was convincing – while Celtic had their moments, their profligacy was a role reversal of the League Cup final and it was Rangers the clinical ones.
Ibrox Noise takes you through our ratings for a great afternoon's work at Ibrox.
McGregor:
Already starting good here, McGregor had another inspirational match – two or three massive blocks, one or two big saves and a huge penalty stop showed just what this goalie can do. He's been stunning this year. 10.
Patterson:
A few pundits suggested Celtic would exploit this 'weak spot' but it was Patterson wreaking havoc on Celtic and turning their blood a few times. He was outstanding, again, and could have scored too. James Tavernier will secretly be glad Patterson is banned because he wouldn't be getting his place back otherwise. 9
Goldson:
Caught a couple of times, but was generally in control, and used the ball well. His usual kind of calmness at the back. 8
Helander:
Absolutely destroyed Edouard, keeping the Frenchman totally subdued. He got few sights of goal and Helander read this one like a book. 9
Barisic:
Was scythed inside 30 seconds and made nothing of it – a decent amount of width from the left, but not as heavily involved as he can be. Still a billion times better than anything Celtic could offer. 7
Davis:
If we overlook his wonder goal, he was wonder-full. Yes, another magically smooth display from Davis who was quicker in mind and body than most around him. He's still in great form. 9
Kamara:
Solid, and strong – Kamara had the beating of Celtic's midfield and doesn't show any on-pitch effects of his controversy. Neat. 8
Arfield:
A lot better than he's been, and did very well in the midfield. Maybe not super involved but he's lacking a spot of match fitness. Still worked hard as always and great at the basics. Nearly scored. 7
Kent:
Another excellent Old Firm outing from Kent who just torments this side – he wasn't as sublime as he has been in the past v Celtic but he certainly caused them havoc throughout. 8
Aribo:
By a distance the outfield MOTM – just lethal, a hand in both goals and looked confident, big, strong and even rather quick. Stellar stuff from the Nigerian. 10
Morelos:
The one lesser performer, Morelos didn't seem to be quite all there. Fine for link up and a few good touches but didn't look focused. 6
Steven Gerrard:
Went with a slight gamble with Aribo and Arfield's positioning but it paid off nicely, and Patterson didn't let him down either. Celtic had a bit of a go of things but they lacked an edge, an edge Rangers had, and Stevie will be delighted his big players showed up for the first real time since 55. This one mattered, and the personnel responded to that. 8