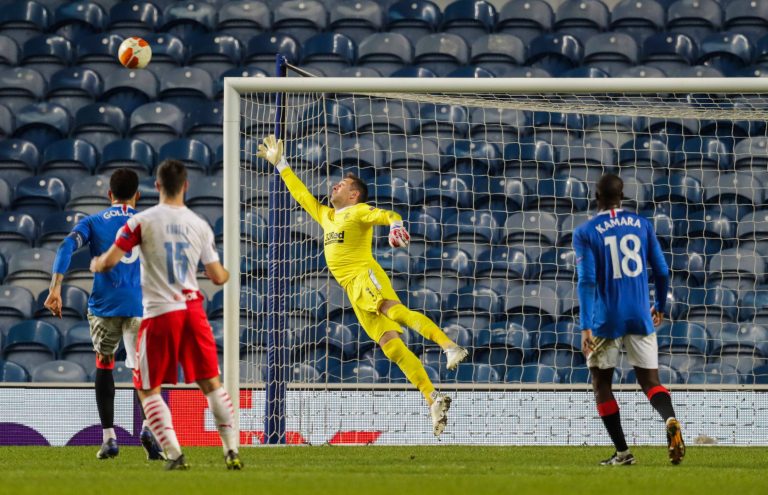 After Steven Davis' well deserved if predictable new deal (more on that later), attention turns to someone else, someone with a big call to make….
Allan McGregor, as he now sees his 40th a little in the distance early next year, is absolutely 100% in the running for Player of the Year, both club and country.
While the first two thirds of his season were a little quiet, he was still excellent when needed – but his performances this calendar year have ramped up significantly, and 'that' save in Prague has gone down in folklore as one of the absolute best ever made in the game.
It was possibly better than his miracle stop in Bremen in 2008, and affirmed his place as arguably Rangers' best-ever goalie alongside Goram.
But his deal expires this summer.
McGregor has a big call to make, as does the club.
McGregor:
Does he want to retire, going out on a stunning blaze of glory, having played a colossal role in bringing 55 home? He cannot possibly top that, can he? He wouldn't want to outstay his time, possibly remaining a bit too long, and ending up as an understudy to someone like Wojciech Tomasz Szczęsny (right, Gigi?). But equally footballers have short careers, and you could understand him wanting to keep going till he simply can't any more.
Rangers:
Do Rangers want to offer a-nearly 40-year old a new deal? He's proven his quality time and time again, but financially speaking as brilliant as he is, the club will be thinking about value for money, and whether it's worth promoting Robby McCrorie sometime in the near future. Or re-signing Liam Kelly. The club has to build for the future too, but then that didn't stop them giving Davo a new deal.
Ultimately, the club is likely to offer McGregor a new deal – he's addicted to this club and will play as long as he can. We don't see retirement any time soon, and he frankly could last well into his 40s.
But, never say never – maybe a blaze of glory is best for him.
We'll see what transpires.