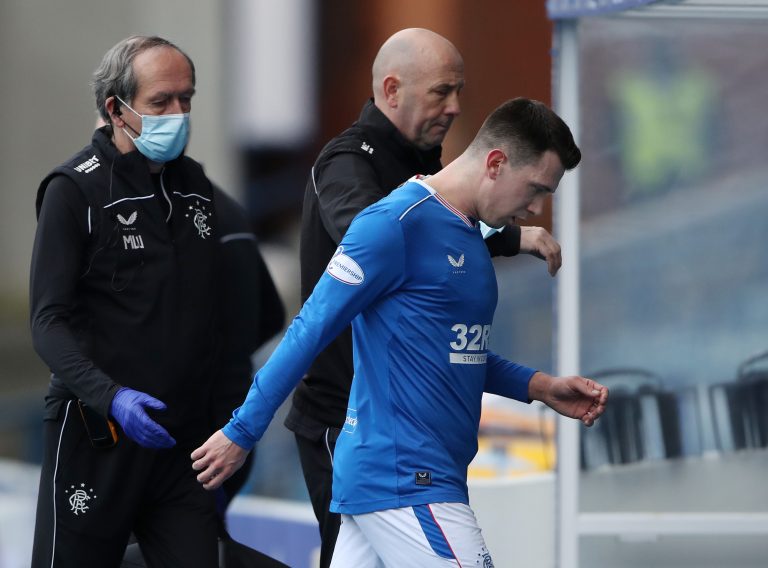 Despite yesterday's brilliant win v Utd, Rangers' injury business received some mixed fortunes after Ryan Jack's ongoing injury blight resumed and the midfielder hobbled off yet again.
Jack has managed just 16 league starts this season, not that many more than Scott Arfield's 10, and the former Aberdeen man pointed to his knee as he left the pitch, even though manager Steven Gerrard said later it was calf.
Either way it wasn't great, and it points to Jack starting to deeply struggle now with injury problems, problems he's been able to manage well in recent years but which have now caught up with him.
He has missed half of Rangers' entire Europa League campaign, and we are genuinely worried about what the future holds for him.
His manager also said something we'll discuss in another entry, but for now, we're all rather disquieted by the number of matches Jack is having to miss.
He knows it himself – his body is now seriously struggling to withstand the rigours of the modern game, and he just isn't physically strong – he's never been a big tough defensive midfielder, but he read the game brilliantly.
But the physical ardour of the SPL has now started to take its toll and he seems to be an increasingly permanent sicknote.
It's a real shame, because he's a colossal player, but unfortunately he's not one who can stay fit very long any more.