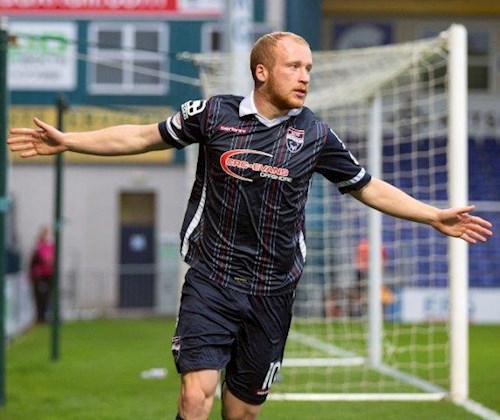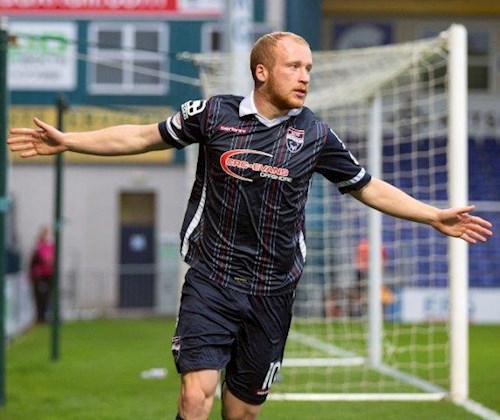 Article by: Richard Fillingham
Liam Boyce, the 6' 1", 26-year-old Northern Ireland footballer and Ross County striker is the SPL's top scorer with 23 goals – the first player from a bottom-six club to head the scoring charts in the post-split era. He also netted in the Scottish Cup against Dundee United to make it 24 goals for the season, before getting knocked out early against Aberdeen.
Just like the famous Maurice Johnston, Liam is a Celtic man, but look how well Mo did for us at Rangers; great player and no one tried harder to please the best fans in the world.

Liam began his career at Cliftonville and returned to the club following a short spell in Germany at Werder Bremen where his family didn't settle. He subsequently won all the 2013 Player of the Year awards in Belfast the season he returned and scored an incredible 36 goals.
This made Ross County make their move for the natural goal scorer and he signed for the Dingwall club during the 2014 close season, but he struggled upon his arrival in the Highlands, because he was looking cumbersome and too unfit for the fast pace of the boisterous SPL. Boyce admitted:

"When I arrived here I weighed a ridiculous, 99.7 kilos (15 and a half stone), and now I'm down to 85 or 86 (13-and-a-half stone). "I thought I knew what I had to do to get fit but looking back it's way more than I thought I would have to do. When I was at Cliftonville, the opposition fans used to shout 'You fat b****** at me' and I used to think: 'What are they talking about?' Now I realise there was a bit of truth in what they were shouting!"
Ex-Rangers man & Boyce's assistant manager Billy Dodds admits Ross County are now embroiled in a battle to try to keep their top scorer. He is signed until May 2018, so Rangers have a chance of getting him for around a £425,000 or signing him in January on a pre-contract for free.
He is not your typical centre-forward as he is neither a battering ram or a speed merchant. He is also a very consistent player who never loses matches through being injured. In season 2015–16 he played 44 games and scored a very acceptable 20 goals and last year in 41 games he managed 24 goals.
This is a startling feat by anyone's standards, a knack for being in the right place at the right time and a cool head in front of goal are his main attributes.
Ibrox Noise thinks that Rangers could do a lot worse than look at Boyce with his 24 goals the same amount as Kenny Miller, Martyn Waghorn and Joe Garner put together. He also picked up 9 bookings last season, so like Joe Garner, he is not slow to get stuck in.
Hearts and newly promoted Hibs are also interested in his services as they look to build a squad capable of challenging for second place.
Dodds added:
"Boycey is one of those boys, he's meticulous with everything he does. He's bought into the sports science side of things. He's dropped so much weight, he's strengthened, he's much sharper now. The last two-and-a-half years have turned his career around. But that's come from him. You wouldn't believe the way his body has changed. It's helped him become an all-round better player. When you're a striker, a natural finisher, that's always in you, but the new strength and conditioning side of things have made him a real special player. I'm not putting it all down to him. It's togetherness that makes Ross County, but he has certainly stood out over the last couple of seasons. He's not just a goal scorer, I mean an all-round player. He's so intelligent, he's got unbelievable ability for a big lad, he's a top player. It's going to take plenty of pennies to get a player of Liam Boyce's calibre. Strikers are special, top teams pay more money for you."
County boss Jim McIntyre has also expressed his desire to keep hold of Boyce and said.

"We've never said to him, come on, what are you thinking? We left him, because he was in such a good vein of form, plus we wanted to get the relegation trouble out the way first."
If Rangers want a proven SPL goal-scorer at a modest sum, Boyce might be worth checking out.