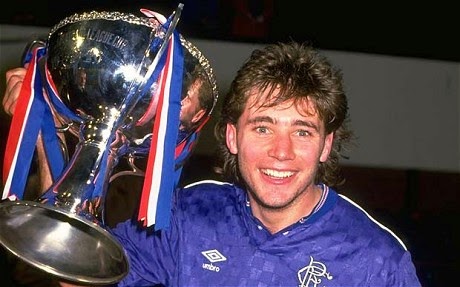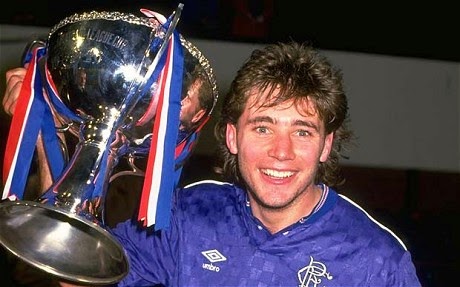 This is the Ally we want to remember, but he's making it hard.
The last entry in this blog
highlighted the fickle nature of the Rangers fan. To praise one minute, to
condemn the next. Of course, specifically speaking, the recent topic of
conversation has been manager Ally McCoist, who has come under increasing
pressure in recent months. Despite an uplifting run in October and November,
Rangers have stuttered dreadfully since that ghastly draw with Alloa, which was
followed by a frustrating loss at Hearts, before the slide appeared to have
been arrested after yet another SPL scalp was taken, this time Kilmarnock.
Alas, yesterday's shambolic
disaster at Recreation Park, facing long-time 'bogey team' Alloa Athletic
spelled, for the majority of supporters, the death knell on McCoist's time in
the hot seat at Ibrox.
With only the Wasps and Livingston left in the Petrofac Training Cup, anything
less than silverware in said tournament given the resources Rangers have at
their disposal would be nothing short of disgraceful.
Neither team is Barcelona, and Rangers, without having a divine
right to the trophy, certainly could only lose it through sheer neglect. Sadly,
that is exactly what happened, and an Alloa Athletic buoyed by recent good
displays v the Govan men clearly felt a shock was on the cards. At 0-2 though,
Rangers fans would have been forgiven for thinking the match was done and
dusted, and a cup final appearance v Livvie was the next port of call.
Cue full time and quite simply a
complete collapse from the visitors, which saw 3 goals conceded in 15 minutes,
and an exit from the Challenge Cup confirmed.
To lose in this manner was
inexcusable, but the signs were there. The display was flat, uninspired, and
defensively Rangers looked as vulnerable as they have for a long time. There
were nerves in the air, and it showed. Disjointed, disorganised, and turgid
football summed up the Gers' display, with no one doing themselves any justice.
What is worse; this was Rangers'
first-ever defeat to Alloa at all. Ally McCoist has the unenviable 'privilege'
of leading the Glasgow
giants to defeat against a side who has never won over the men in blue.
A mitigating circumstance was the
early loss of Macleod to injury – you cannot blame McCoist for that. And while
his replacement, Dean Shiels, did indeed score, he does not offer a quarter of
what Macleod does, and was not the right replacement.
Once again, Ally showed inability
to adjust to dire situations. He mucked up the substitutions at Tynecastle, and
hardly got them right last night either.
It is just the latest in a litany
of offences proving McCoist does not have what it takes to manage this great
institution, for as easy as it might be to win with your full team, if you are
unable to resort to a plan b in times of difficulty, as he has shown time and
time again, you are in no position to manage Rangers.
There is also the issue of his
wages. McCoist remains the high-paid individual at Ibrox. Better paid than any
board member or player, his rewards are rich in Govan. Resignation would waive
a pay off so he refuses to do so, and knows the Club cannot afford to fire him
and subsequently pay off his full wage in a single sum.
This is not the act of a true
bear – even Le Guen had the utter dignity, following his disastrous time at
Ibrox, to waive the compensation despite being fired. For all 'Le Gaffer' got
wrong at Rangers, that was a remarkable act and saved Rangers £2M. He knew
after 6 months it was not working out, and accepted his fate with maturity.
McCoist definitely once truly
cared about Rangers, certainly up to and including administration, but that
seems less and less accurate these days.
McCoist, after 3 and a half
years, still seems to feel it is all about the Ally.